Twin speakers on either side of the phone produce better quality sound than most un-plugged mobiles. The volume can be cranked up with little grating tinniness - although low-end bass is missing in action, as usual.
The music player really does deliver. Stick in some decent headphones and you'll appreciate how good. It supports a wide variety of regular digital file formats, along with cover art, and tracks are arranged in familiar MP3 player catagories, including podcasts. You can create playlists and shuffle tracks. Songs can be sync'd with Windows Media Player 11 on a PC or Nokia PC Suite - or you can drag and drop tracks.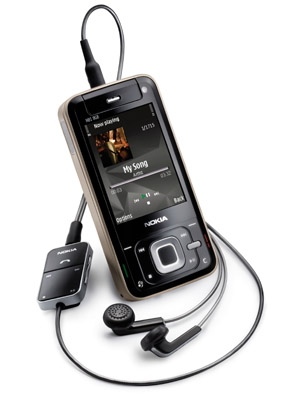 Average earphones - very good music player
The N81's support for the Nokia Music Store download service hasn't gone down well with some mobile network operators, as it offers an alternative to their own offerings. It's not the slickest of ways to buy music using a phone – there are too many pages to pass through before downloading - but it's early days. Users should be aware of additional data costs they might incur from their mobile networks if they're not on a flat-rate data plan. But you can choose to download via Wi-Fi if you have a hotspot of your own.
Don't fancy downloading? The N81 also has an FM radio built in. It also supports A2DP Bluetooth stereo, and it has a UPnP media streaming facility for transmitting tracks to a compatible hi-fi.