Pixel counts
The contention is that while Samsung 4K LED screens use a traditional red, green, and blue subpixel arrangement, LG's new panel design adds a fourth white subpixel. So instead of using three static coloured subpixels (creating 3840 pixels across in total), RGBW implements four (RGB, WRG, BWR and GBW) that constantly cycle, totalling 2880 pixels.
What followed was a lot of pedantic maths, which I can assure you went down a treat after a late night at Harry's Bar, the traditional haunt of UK press looking for respite from the show.
This kind of industry sniping isn't unusual. Several years ago LG Display used CES to issue dire warnings about the perils of watching Active Shutter 3D, then promoted by Samsung, instead of its own passive technology. Thankfully no one watched 3D anyway, so no one's head exploded.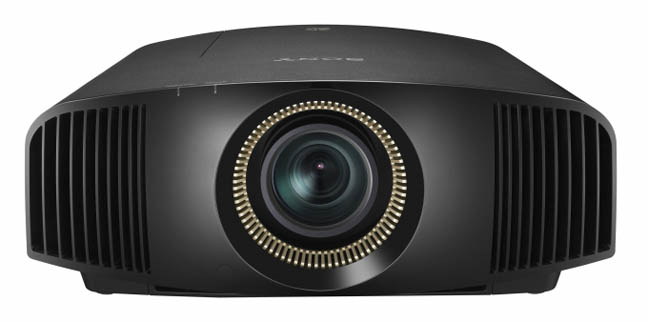 Sony's VPL-VW520ES 4K projector is the first to feature HDR capabilities
One of the more impressive viewing experiences at the show came from Sony. Its new VPL-VW520ES 4K projector is the first to offer HDR support. At 1800 lumens its lamp isn't going to sear your retinas, but the depth and vibrancy of its colour presentation, allied to deep dynamic contrast, on sample clips of TV show The Blacklist and The Amazing Spider-Man 2, proved gorgeous.
It may have been one of the worst kept secrets in consumer electronics, but that didn't stop Panasonic's first OLED telly drawing similar gasps of admiration. The TX-65CZ950 is a 65-inch curved panel that sets new standards when it comes to picture fidelity.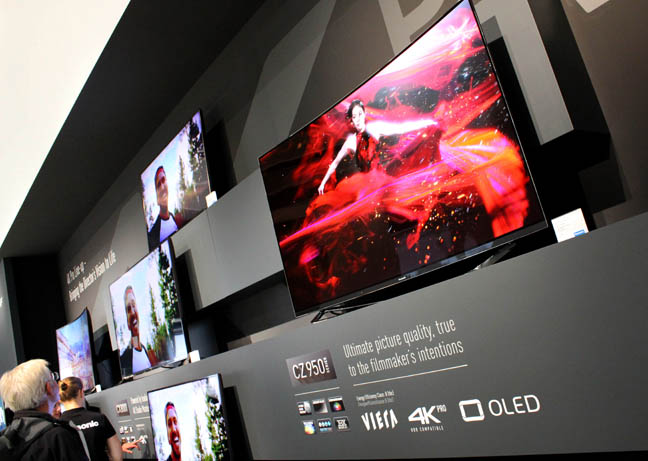 Panasonic's take on OLED tech, the Viera TX-65CZ950
The screen is the first to be granted THX 4K certification. It's also been optimised by Hollywood colourist Michael Sowa. Comparisons with a professional Sony OLED mastering monitor revealed next to no difference between the two. The UK price has yet to be confirmed, although £7,500 was deemed in the ball park.
Similar topics