SlimWeissGaryVirgin
After digging for six months, Bagley decided that his Wikipedia nemesis was none other than Gary Weiss. He was sure the 70.23.85.112 IP address belonged to Weiss, and he was sure that Weiss later used a Wikipedia account called "Mantanmoreland" to control not only the encyclopedia's naked shorting article, but three others as well: the Overstock.com article, the Patrick Byrne article, and the entry on Gary Weiss himself.
The Mantanmoreland account was created just after Bagley dueled with that 70.23.85.112 IP address. The account's first act was to edit the naked shorting article, and it later created the article on Gary Weiss.
"Gary is deeply conflicted," Bagley insists. "He controls the article about himself, and he controls articles dedicated to things he is the avowed enemy of."
Weiss vehemently denies these charges. In fact, he told us that he's never edited Wikipedia. "I really find it deplorable that you're repeating all these crazy charges," he said, "and would appreciate it if you'd leave my name out of the article entirely."
Nonetheless, Bagley felt he had the evidence to prove his claims, and he decided to bring it to the attention of Wikipedia's top administrators.
His first attempt at this was ill-advised. Using a Wikipedia account called WordBomb, he posted a reference to a lawsuit brought against Weiss. "On July 7, 2006, I decided to alert the Wikipedia community to Weiss's activities," Bagley says. "I did this by adding some true but unflattering details to the Gary Weiss article, expecting Mantanmoreland to object and escalate the matter to the official Wikipedia dispute resolution process, resulting in Mantanmoreland's banning from Wikipedia."
But that didn't happen. Instead, a Wikipedia administrator known only as SlimVirgin swooped in and immediately banned Bagley's account.
Bagley goes to school
After some additional back and forth on the site, Bagley got smart. Or so he thought. He went straight to SlimVirgin with evidence he'd collected.
In this case, he was trying to show that the person behind Mantanmoreland was "sock-puppeting" - pretending to be more than one person - in an effort to promote his own views. "I had links to diffs - the basic units of Wikipedia that show the difference from one edit and the next," Bagleys explains. "Basically, these diffs showed Mantanmoreland having conversations with himself on the site. I figured that was enough to get Mantamoreland booted."
SlimVirgin soon wrote back, saying that the evidence meant nothing. But Bagley questioned whether she even looked at it. So he sent her a few more files, and this time, he included a small script - spyware, in other words - that would ping his server whenever the files were opened.
A few minutes later, he got the ping. But according to Bagley, it didn't come from SlimVirgin. According to Bagley, it came from Weiss. "All I wanted was to know SlimVirgin has opened my files," Bagley says. "Well, it did get opened, but it was opened by Weiss."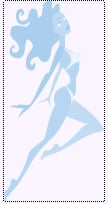 SlimVirgin (as she appears on her Wikipedia page)
AntiSocialMedia.net
"That's the day I knew something rotten was afoot at Wikipedia," Bagley says. He quit trying to edit the encyclopedia, but he spent the next year collecting additional evidence against Weiss and Wikipedia and posting it to a new site called AntiSocialMedia.net.
More than twelve months later, he acquired a Wikipedia database dump - from the site itself - that he saw as proof that SlimVirgin and another administrator called "JayJG" were misusing their authority.
On August 22, Bagley posted information from this database dump to AntiSocialMedia.net. And two weeks later, after other Wikipedia users accused the site's elite of undemocratic behavior, Bagley's IP range and the range used by Overstock.com were banned by Wikipedia's UK press officer, David Gerard.
Overstock employs about 800 people, and since Bagley uses a shared IP range, run by an ISP called Broadweave, Gerard also ended up banning about 1,000 additional homes in Traverse Mountain, Utah.