Wikipedia responds
What does the inner circle say about all of this? When we contacted SlimVirgin via email and asked for a phone interview, she referred us to UK press officer David Gerard.
And when we asked David Gerard why he banned Bagley and Overstock from the site, he told us he'd banned Overstock's range because the company was guilty of "abuse of the wiki". Via email, he indicated that someone else had banned Bagley's IP range.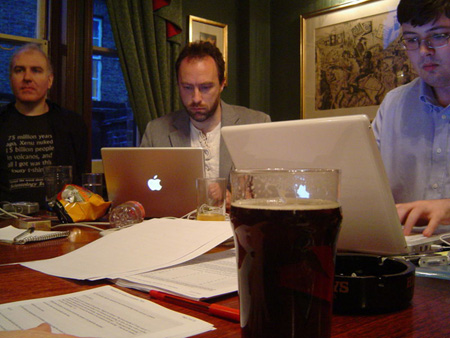 David Gerard (left) and Wikipedia founder Jimmy Wales (center), in a photo (taken by Gordon Joly) from David Gerard's
Wikipedia page, reproduced under the Creative Commons Attribution 2.0 license
He then pointed us to a blog post where he said we would find evidence of Overstock's abuses. This blog post explained that Overstock was banned because someone was flooding Wikipedia with references to five urls assigned to an online travel company called Ski West. In 2005, Overstock.com purchased Ski West, but it sold the company in the spring of this year, well before Overstock.com's IP range was banned from Wikipedia.
When we first corresponded with Weiss for this story, he pointed us to the same blog post.
Meanwhile, posts to Wikipedia show that David Gerard has a personal beef with Bagley. "Bagley's case is that he's been stalking people with quite some viciousness for commercial gain. He even got writeups in the NYT and NY Post, so I can state he's an odious stalking arsehole with Reliable Sources!" Gerard writes. "I urge you to start reading up - he's really at a new and exciting level of odiousness." Elsewhere he adds: "ps: Fuck off, Bagley."
When we responded to Gerard's email, asking for more specifics on the banning of these IP ranges and requesting a phone interview, he did not reply.
Connecting the dots
So what exactly is going on here?
Without a doubt, Judd Bagley has seriously angered the powers that be at Wikipedia. He's even received an email from Jimbo Wales saying: "Your feigned innocence is not very endearing" and "It would be helpful if you could come to terms with the fact that you have behaved very very badly over a long period of time."
There's no denying that Judd Bagley is, shall we say, overzealous when it comes to Wikipedia. We've witnessed his fervor first hand. In this respect, he's a lot like our favorite CEO, Patrick Byrne. But overzealousness is hardly a reason to ban Wikipedia edits from 1,000 homes and an entire dotcom.
Wikipedia's David Gerard says that Judd Bagley and Overstock were banned because they were "spamming" - i.e. posting self-serving messages to the site. But Bagley hasn't edited Wikipedia in over a year, and any spamming from former Overstock subsidiary Ski West is completely irrelevant.
Gerard also calls Bagley's IP range an "open proxy." As Dan Tobias told us, Wikipedia frequently bans open proxies because people can use them to make edits without identifying themselves. But according to Broadweave, the ISP that runs Bagley's IP range, it's not an open proxy - and never has been.
Clearly, this ban isn't about spamming. It's about something else.
If you ask Judd Bagley and Patrick Byrne what's going on, they'll tell you the ban is part of much larger attempt to discredit their views on naked shorting. They believe that a small group of people is using Wikipedia as means of controlling public opinion.
"When you think of how the public consciousness of an issue can develop, one of the first things that's going to happen in today's age is people are going to Google the issue and then read the Wikipedia article that comes up," Byrne says. "So if you can control that article, you can really deflect the discourse."
Whatever the motives behind it, there's no doubt that the Wikipedia inner circle rules those four articles with an iron fist. And as Charles Ainsworth points out, this puts a cloud over the entire encyclopedia.
"Wikipedia, in its way, is of great benefit to the web community," he says. "But I've also been greatly dismayed that Wikipedia has apparently attracted some intelligent but problematic personalities with ambition, secret personal agendas, and cold, ruthless behavior towards other editors and ideas that they perceive as threatening their power, position, or agendas. What's disheartening is that Jimbo and the rest of the Wikimedia Foundation not only don't do anything about it, but they appear to support these charlatans to some degree."
"When Bagley attempted to level the playing field, he was banished immediately," Ainsworth continues. "Obviously, there's something seriously wrong with the way Wikipedia is being managed and administered. I don't know if it threatens the long-term viability of the project or not, but it is cause for concern among those of us who spend a lot of hours actually trying to write quality articles." ®