This article is more than 1 year old
Western Digital drive is DRM-crippled for your safety
Because you are a dirty criminal scumbag
Western Digital's 1TB My Book World Edition external hard drive has been crippled by DRM for your safety.
A kindly Reg reader tipped us off that the remote-access HDD won't share media files over network connections. Which is, as you can see here, the entire stinking point of it.
It's a scary world full of potentially unlicensed media. We're fortunate there's a hard drive vendor willing to step forward and do some indiscriminate policing for us.
From the WD site:
"Due to unverifiable media license authentication, the most common audio and video file types cannot be shared with different users using WD Anywhere Access."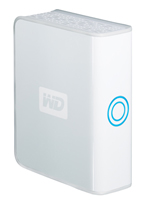 You have 20 seconds to comply
WD's list of banned file types encompasses over 35 extensions. This includes AAC, MP3, AVI, DivX, WMV, and QuickTime files. And - why not? — Windows TMP files too.
The storage device is billed as a "surprisingly simple and secure way to access and share data and photos" using your home or office network. And technically that's true — namely, the "way" in question is not letting you do it. Abstinence is simple and secure. You've got to hand it to Western Digital.
If you must have the drive, you could work around the crippled WD Anywhere Access client app. Or be satisfied sharing your impressive collection of .doc files. But this is — supposedly — a remote access hard drive.
So what's the point if WD is going to use a shotgun feature killing technique and assume there isn't a legitimate and legal reason to share an AVI file? (Hello, digital camera).
That's a very good question. ®