Radiohead backs WW2-style austerity program
Music for a new society?
---
Misery will be compulsory, if top rockers Radiohead have their way. The band have thrown their weight behind a "World War 2"-style programme of austerity measures: including restrictions on behaviour, and higher taxes.
Last week, two newspaper columnists called for a return to the kind of social coercion only ever seen before in wartime. It's all for the sake of "the environment", but as we'll see - it's a very peculiar and selective version of environmentalism.
Singer Thom Yorke told The Observer: "Unless you have laws in place, nothing's going to happen," he said.
"Nothing of this is going to be voluntary. [sic] It's a bizarre form of rationing that we're all going to have to accept, just like people did in the Second World War."
It's the War On CO2, of course, and Radiohead will be doing "their bit".
Yorke said the band is examining the option of touring by sea - although it would have to be a cargo vessel. A passenger liner, such as the Queen Mary, said Yorke, emits too much carbon.
(And it's probably too comfortable.)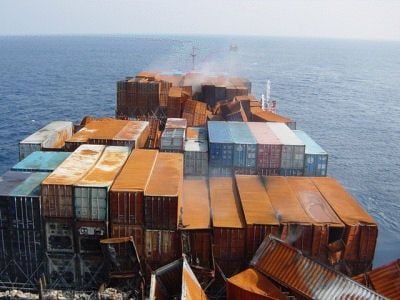 The Touring Life: Can you spot Radiohead in this picture?
Harmful only to humans
It's strange to see how the anti-growth Carbon Cult has successfully pushed more immediate - and very real - environmental crimes such as pollution right off the agenda. The CO2 Cultists (think Wikipedians) now back hazardous alternatives to today's products or services. These alternatives might harm people - but they lower the sinful emissions of CO2.
For example: from next month, mercury is being reintroduced into the British home. Mercury-based light bulbs will be compulsory within three years: but these CFLs (compact fluorescent light bulbs) are not only more expensive than traditional light bulbs, but pose all kinds of safety problems regarding their disposal. Break one, and you have a small biohazard in your kitchen.
In a similar spirit, but on a much larger scale, the nuclear industry has now been rehabilitated as "green" - after 20 years as a social pariah. The new reactors have got much better, but the problem of environmental disposal of the by-products remains the same: Dig a Hole... and Pray.
In each case, human health is put at a rationally-quantifiable risk, but us humans are necessary casualties in this latest "war". How could this be?