Boeing confirms revised Dreamliner schedule
First delivery late 2008
---
Boeing has confirmed it will deliver the first 787 Dreamliner in November or December 2008, following a maiden flight early in the year.
The announcement comes a couple of months after the company knocked backed the 787 schedule by six months due to production difficulties. It had previously said it would deliver the first example to All-Nippon Airways by May 2008 following a compressed flight test programme.
Scott Carson, head of Boeing's commercial plane unit, admitted the manufacturer is still "ironing out significant supply chain wrinkles", but promised: "The schedule we revealed in October is unchanged."
To back up its assertion that all is proceeding according to the revised timetable, Boeing yesterday released a nice snap of the 787 production line: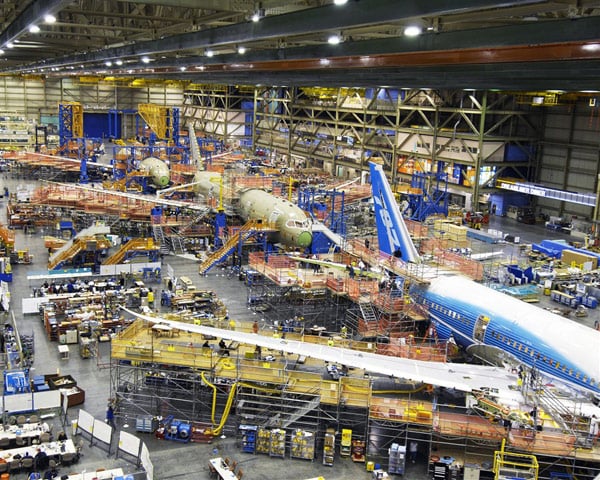 The blurb explains: "The Boeing production line is full for the all-new 787 Dreamliner, as work continues on the first flight-test airplane and two airplanes to be used for static and fatigue testing. This photo shows Airplane #1 in the third position, where final structure and systems installations are completed. Behind it, the static-test airplane is in the second position, where it will receive landing gear, engines, and any required interior installations. The fatigue airplane entered final body join 30 Nov."
Boeing currently has 762 orders for the 787, valued at $120bn. ®