China pretty chuffed with lunar probe
'Another landmark achievement' declares prez
---
China's president Hu Jintao today described the country's Chang'e 1 lunar probe, which has successfully beamed back images of the Moon, as a "landmark achievement", Reuters reports.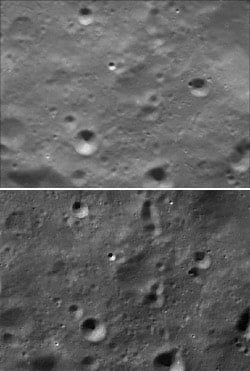 Chang'e 1 reached lunar orbit at an altitude of 200km on 7 November. A subsequent snap released to the press released caused a bit of a rumpus when some claimed it was actually a doctored version of an image captured by the US defense department's Clementine probe in the mid-1990s (see pic: the Clementine image at the top, Chang'e 1 at the bottom).
This particular conspiracy theory was quickly debunked, as New Scientist explains.
Back at the Great Hall of the People love-in, meanwhile, president Hu declared that Chang'e 1 had "greatly stimulated the patriotic fervor of the entire Chinese nation", and reiterated that his nation's space ambitions were "purely for peaceful purposes".
China plans to launch its third manned rocket, Shenzhou VII, in October 2008, but recently played down reports that it intends to put a man on the Moon by 2020. ®