Paris Hilton cavorts naked in middle of desert
Nothing but gold paint to protect her famous modesty
---
NSFW Those among you who've ever wanted to see a picture of a naked Paris Hilton sprawled out in the desert like a gold-plated strumpet are in luck, because here is that image: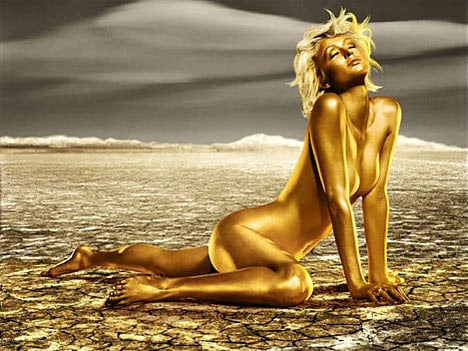 Yup, we know what you're thinking: why's the world's favourite heiress doing a Goldfinger in Death Valley when she's supposed to be in Rwanda offering mewling war orphans succour from her celebrity mams?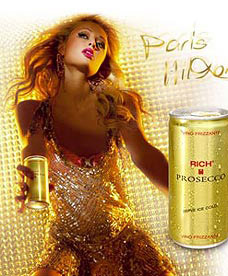 The answer? Champagne in a can. Not just any old champagne, mind - this is Paris Hilton Rich Prosecco, and the amateur grumble flick star is about to embark on a European tour to promote the tipple.
Oh alright then, Rich Prosecco isn't even champagne. The manufacturers wisely refer to the Italian fizzy plonk as "sparkling wine" to avoid any trouble with Johnny Frenchie who is - as we all know - particularly touchy on the subject.
While Rich Prosecco's standard offering weighs in at a full-fat 10.5 per cent ABV, we're delighted to see that recovering former jailbirds Hilton, Lindsay Lohan and Nicole Richie can enjoy a sensible 6.5 per cent breathalyser-busting alternative, with the added bonus of passion fruit or a blend of strawberry and cassis fruit.
Back in Death Valley, meanwhile, we note with approval that Ms Hilton's jubs appear to be well stocked for her long-awaited African mercy dash. ®