The Japanese robot industry is streets ahead of the competition when it comes to designing droids for peaceful uses (for war-bots, of course, the discerning purchaser shops in America). That said, Japanese robots have so far struggled to find a real, erm, killer application.
This is perhaps because the robo-designers of Japan tend to strive for overly worthy uses: caring for the elderly, construction work, that type of thing. Plainly, this will never inspire people. Now, however, we might have something that people will buy.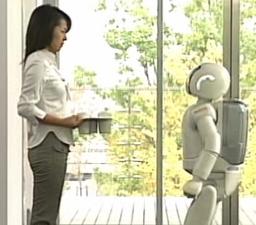 Take this shit away and get me a large gin.
That's because Honda has finally programmed its mildly interesting but ultimately purposeless Asimo robot to do something useful: serve drinks.
At last, the robot butler or bartender could finally be on the way, and humanity will be freed from the crushing burden of mixing its own drinks. It's like the invention of the wheel. For some of us, anyway.
Honda showed off the droids' new capabilities in Tokyo yesterday.
According to AP: "The bubble-headed robots can recognise drink choices and carry a tray with the requested drink to the person who placed the order.
"The Asimo... looks like a child in a white spacesuit."
Apparently, Honda has also enabled the dwarvish droids with other abilities. They can seemingly dodge round drunken human masters, for instance - a useful skill for waiters who are only 51 inches tall and thus below many people's field of vision.
There are some worrying hints in the AP story, however. For one, it seems the robo-butlers so far may only be able to serve tea and similar muck, known to be fatal to even the hardiest constitution.
Secondly, there was a truly disturbing suggestion that Honda intends its stunted spacesuit robots to serve other basic human needs.
"By the end of 2010s, we'd like to see these robots working at every street corner of the city," Honda's Tomohiko Kawanabe said, according to AP. ®