Oz popstress Kylie Minogue has made a guest appearance on the cover of the latest issue of the Doctor Who magazine wrapped around a rather unimpressed-looking Dalek.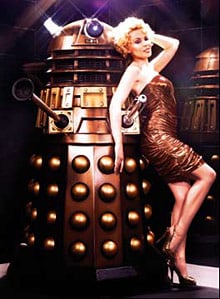 Minogue, who plays a waitress in Doctor Who Xmas special Voyage Of The Damned, said of the shoot: "I was in the presence of a legend." She provocatively added: "The Dalek was in great condition, and much bigger than I'd expected."
While young Who aficionados will doubtless welcome this hot girl-on-Dalek action, Minogue is unlikely to replace Katy Manning in veteran fans' affections. Manning, fondly remembered as Who's assistant Jo Grant, was legendarily snapped for Girl Illustrated with a similarly well-endowed Dalek, but decided to dispense with her clothing.
She later said of the resulting rumpus: "As for those photos, that went down like a cup of cold sick when I did it. I thought it was quite funny but nobody else did."
Voyage Of The Damned goes out on BBC One at 6.50pm on Christmas Day. The Doctor Who website has some stills here. ®