Review With its recent 6500 Slide and Classic models, Nokia has introduced the most unlikely twins since Schwarzenegger and DeVito. Although they share the same model number and 3G capability, the 6500 Slide and 6500 Classic are very different devices both in looks and key features.
The Slide, with its brushed metal casing, much in the style of a slimmed-down N95, goes for an image-conscious audience. The handset also packs in a 3.2-megapixel camera, sporting high-quality Carl Zeiss optics and an autofocus system, easily outgunning the Classic's fairly basic 2.0-megapixel shooter.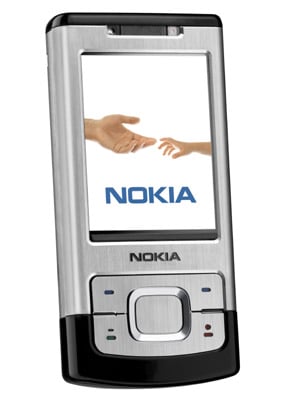 Nokia's 6500 Slide: aimed at the image-conscious
Video-wise, the Slide also trumps the Classic. It shoots 640 x 480 (VGA) quality video at 15 frames per second, has a face-to-face video-call facility – thanks to a secondary camera above the display - and a nifty TV-out option.
Both handsets are 3G and quad-band GSM phones, using the Nokia Series 40 user interface – which will be pretty familiar to anyone who's used a Nokia recently - and are capable of high-speed video and audio downloading, streaming and internet browsing.
Unlike the Classic, the 6500 Slide does not come with 1GB of built-in memory, shipping with a modest 20MB of onboard memory. However, this is complemented by MicroSD card expansion up to 4GB, providing a more flexible approach to storing music, video and images. Nokia supplies a 256MB card with the Slide, but users who want to make the most of the camera and music player might want to splash a few quid on a higher-capacity card.
With such key feature differences, the 6500 Slide and 6500 Classic are going to attract quite distinct admirers.
The Slide's brushed stainless steel casing immediately adds a bit of class. It's not the slimmest of sliderphones – measuring 96.5 x 46.5 x 16.4 mm and weighing a substantial 123g, but it still retains aesthetic attraction, unlike some of its predecessors that were about as ergonomically appealing as a pineapple. It sits comfortably in the hand both when as a phone and as a camera in landscape mode. The camera-like back is very minimalist-chic.
The Slide has a bright and large-enough 2.2in, 240 x 320, 16.7m-colour display - the 6500 Classic's is a smaller 2in, 240 x 320 unit. Under the display is a functional set of controls, with a five-way navigator, soft-menu keys and call/end buttons. The slider has a reassuringly smooth, well-sprung feeling, and the keypad is a no-fuss grid of large keys – again, smart and functional.
The Slide has a dedicated camera activation key on the side, as well as volume keys that take care of the zoom in camera mode. Socketry on the top panel includes a micro USB port, a charger socket plus a 2.5mm headphones jack. We'd have preferred to see Nokia's music phone-style 3.5mm headphones socket instead, making it easier to plug in any standard headphones, but at least the 2.5mm socket offers an easy route to upgrading with a cheap and widely available 2.5mm-to-3.5mm adapter. The Classic simply uses its sole micro USB port as both charger and headphone socket.