The champagne corks are popping this morning down at Vulture Central because, after years of trying, we've finally found a rock-solid link between IT and knickerless celebutards: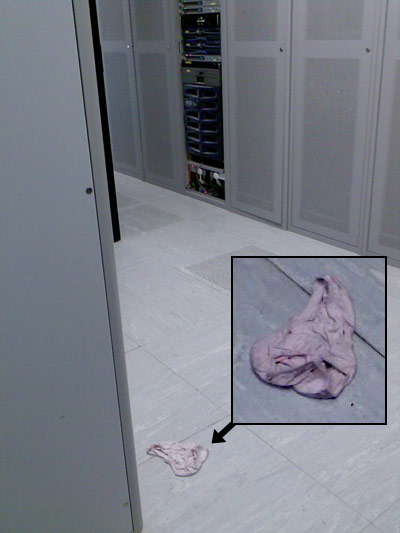 For the record, the panties in question were spotted by a reader in a well-known London data centre. Our man says that the premises are protected by swipe cards, voice recognition, palm scanners, ex-special forces operatives armed with Tasers, Japanese-built killbots, three electified razor-wire fences, and a miniature helicopter gunship packing intruder-frying microwave weaponry.
Accordingly, we must ask: how did either Britney, Lindsay, or Paris gain entry to this most secure of facilities; what level of threat did the penetration pose to national security; and why has the CCTV footage not yet appeared on the YouTube celebrity upskirt channel?
We have, of course, made our dossier available to the relevant authorities and selected lingerie fetish websites. ®