This article is more than 1 year old
Toshiba tech paves way for 100Gb Flash chips
Massive capacity iPods coming... but not for a few years yet
Toshiba has developed what it believes will be a key component of Flash chips capable of storing 100Gb of data. Unfortunately, you're going to have to wait four more generations of Flash technology to get it.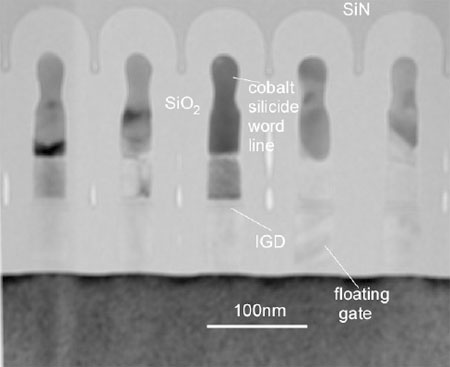 Toshiba's Sonos Flash structure
By then, Flash chips will be made using a 10nm process, Toshiba reckons. Today's Flash chips are made at 65nm or greater. The next step is around 50nm, then 45nm and 32nm. By the time Flash makers reach the last of these, current 'floating gate' Flash designs are expected to become impractical.
Toshiba's pitch for the successor design is Sonos - Silicon Oxide Nitride Oxide Semiconductor - which sandwiches a 1.2nm-thick layer of silicon nanocrystals between two 1nm-thick oxide films. There's a nitride layer in there too, said Toshiba, and it's that that holds the electrons that record the cell's single data bit.
At this point, the details get impenetrably quantum mechanical, but the upshot is that the structure, a revised version of which Toshiba's boffins announced to others of their ilk yesterday, makes for faster data writing and data deletion operations, and holds information for longer - ten years, Toshiba calculates, and that's before it further optimises the technology over the coming years.