Wikipedia COO was convicted felon
Audit pending
---
Chief Operating Officer
Before Doran was hired as COO, she worked for the Foundation through a temp agency, serving for "a few months" as a part-time accountant or bookkeeper. When she moved into the COO post, according to the Wikimedia Foundation website, her fiscal duties included ensuring effective audit trails, approving expenditures, providing proper fiscal record-keeping and reporting, and submitting monthly financial statements to the board of directors.
"I haven't seen this particular announcement before (it was issued before I came on board)," Mike Godwin told us, referring to the announcement of Doran's hiring as COO, "but what strikes me about it is that [Chairman Florence Devouard] is expressly noting that the COO position as defined will be 're-evaluated' as the board progresses to a decision on how best to fill the Executive Director position."
Four months after Doran's hiring, on May 20th, she was arrested by the Treasure Island, Florida police for driving while under the influence and driving while her license was suspended or revoked. This was at least her fourth DUI in ten years, which is a third degree felony in Florida. She paid a $5,250 bond and was released that same day.
Fifteen days later, she flew to Amsterdam for a Wikimedia Foundation board meeting, and when she returned to the US, she was stopped by customs and immigration. The officer who spoke to her, Joe Smagowicz, declined to provide us with any details on the interview.
On July 4 - an American holiday nearly a month after the return flight from Amsterdam - the Wikimedia Foundation passed a private resolution concerning Carolyn Doran, and she was soon removed from the official Foundation staff list. A month later, she was arrested and jailed by the Pinellas Park, Florida police after a warrant was issued by the sheriff in Loudoun County, Virginia.
"There was a warrant put out for her arrest for violating her probation, and extradition was nationwide," says Captain Sanfield Forseth, of the Pinellas Park police department.
According to Jo Ellen Rackleff, a spokeswoman for the Florida Department of Correction's office of public affairs, the warrant was issued at least in part because Doran had violated her parole with her flight to Amsterdam.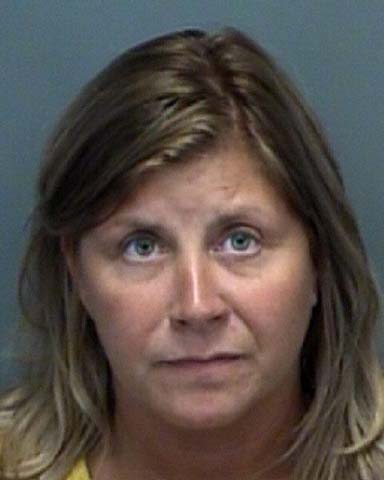 Carolyn Doran, after her arrest by the Pinellas Park, Florida police
In the summer of 2005, Doran went to prison for a DUI hit and run, and when she was released in January of 2006, she was put on probation. This November, after her arrest by the Pinellas Park police, she was extradited to Virginia, and she is currently in the Middle River Regional Jail in Staunton, Virginia.
Her Virginia criminal record also includes convictions for passing bad checks, petty larceny, and unlawfully wounding her boyfriend of eight years. Doran pleaded guilty to the shooting incident in 1990, and this was reported in The Washington Post.
Her Texas criminal record includes another DUI conviction, and in Maryland, she was convicted for stealing more than $300.
A month after Doran's second Florida arrest, in a post to the official Wikimedia mailing list, the Foundation board was asked what became of her. "Pray tell, what happened to Carolyn Doran?" a Wikipedia editor inquired. "I've asked on a number of fronts and been met with stone walls...The Chief Operating Officer of a top ten web property vanishes, with no explanation of any kind?"
Chairman Florence Devouard provided the only answer: "Has it ever occurred to you that Carolyn herself may have preferred so?" Devouard wrote. "If the issue disturbs you so much, I have a suggestion. Just give Carolyn a call...she is still living in Florida. You may try to find her contact on internet, or white pages? I think that when you want to know something, the best you can do is to ask directly the person. No?"
Devouard's suggestion was not a good one. At the time this note was posted, Carolyn Doran was locked in the Pinellas County, Florida jail.
The Wikimedia Foundation's fiscal year ended on June 30th, and according to a post on the Foundation web site, an audit was originally scheduled for release "by the end of September". "The planning work for the audit is set to begin by mid-August, with a view to complete the work by end of September," reads a statement posted in July. "We hope to have the final audited financial statements and report for you by this time."
But in November, Devouard said that the audit "is expected to be finished by the end of the calendar year (hopefully)." According to a previous audit, the foundation's total assets topped one million dollars in 2006. ®
Update
January 4: The original version of this story said that Carolyn Doran's hit and run DUI resulted in a fatality. This was based on two separate sets of computer records - one with the Loudoun County, Virginia Circuit Court and another on the web site of the Virginia Judicial System. But these records are incorrect. Apologies to Carolyn Doran and her family.