This article is more than 1 year old
BBC redesigns and 'widgetizes' homepage
What would Lord Reith make of The Daily Me?
The BBC has launched the first redesign of its homepage in five years, and it's gone well web 2.0.
You can try it yourself here, in beta, naturally.
At the moment only the home page has been swept up in the web 2.0 tide. The BBC's news pages are set for a redesign in the new year once the consolidation of web and TV news production systems is complete.
For the homepage, Auntie has adopted the iGoogle approach, where the elements of the front page can be added, removed and rearranged. There's no iPlayer box yet, but it's on the way.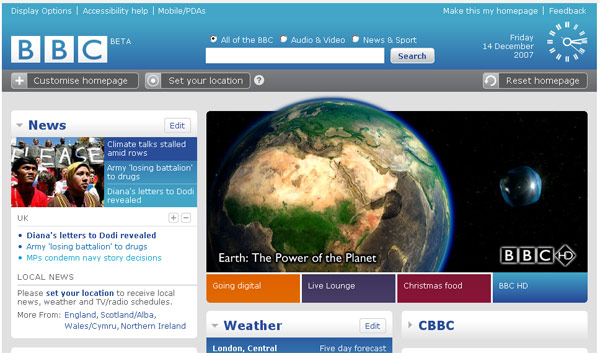 Each box can be customised - the sport box to show news about your favourite sports, for example.
The Beeb's head of user experience Richard Titus wrote: "From a conceptual point of view, the widgetisation adopted by Facebook, iGoogle, and netvibes weighed strongly on our initial thinking.
"We wanted to build the foundation and DNA of the new site in line with the ongoing trend and evolution of the internet towards dynamically generated and syndicable content."
The "100 per cent user-focused" redesign has plenty of space down the sides for the advertising that the BBC's commercial arm has begun serving to international visitors.
According to Titus: "It was a no-brainer to move to a layout that would be cleaner, more open and more easily readable. There was also a desire to get away from the tired and monotonous blue base colour of the original page." ®