Nvidia has rolled out its first nForce 7-series chipset, this one targeting Intel processors and supporting the GPU maker's new three-way SLI technology.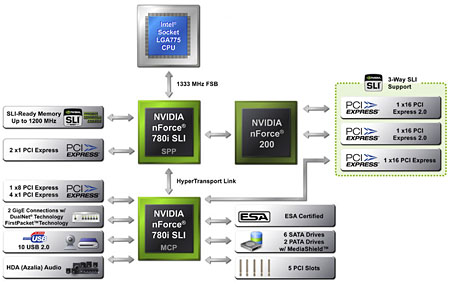 Nvidia's nForce 780i SLI
The nForce 780i SLI supports Intel's one-, two- and four-core desktop processors on a frontside bus (FSB) clocked at between 533MHz and 1333MHz. The chipset hooks the CPU up to two channels of DDR 2 memory running at up to 1200MHz - if the memory's certified to Nvidia's Extended Performance Profile (EPP), otherwise it'll be clocked at up to 800MHz.
The chipset has 62 PCI Express (PCIe) lanes at its disposal, so it's capable of host three x16 connectors, though interestingly only two are PCIe 2.0 compatible - the third is plain old PCIe 1.0. Boards based on the 780i can also offer up to five PCI slots.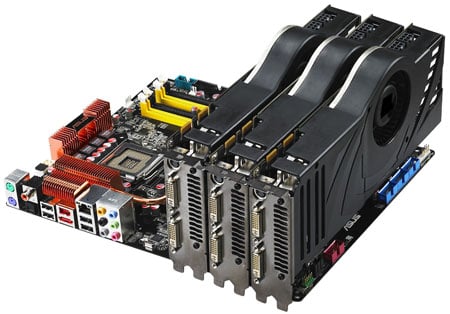 Asus' P5N-T: 780i SLI based
Three-way SLI allows users to connect three GeForce 8800 Ultra or 8800 GTX graphics cards - both older, 80nm parts rather than shiny new 65nm 'G92' chips like the 8800 GT and the new 512MB 8800 GTS.
The 780i can host up to ten USB 2.0 ports, two Gigabit Ethernet connectors, two parallel ATA drives and six 3Gb/s SATA drives.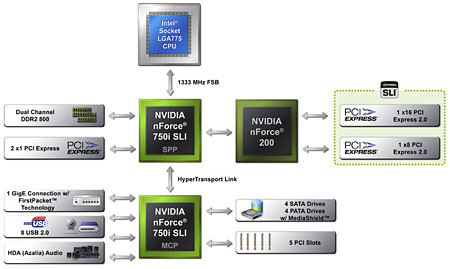 Nvidia's nForce 750i SLI
Nvidia also introduced the 750i SLI, a board designed to support just two simultaneously connected graphics cards via its 26 PCIe lanes. It too supports a 1333MHZ FSB, but the DDR 2 memory link is limited to 800MHz.
The 750i can handle eight USB 2.0 ports, four parallel ATA peripherals and four 3Gb/s SATA drives. It has one Gigabit Ethernet port.
Expect board announcements from all the usual suspects to follow forthwith. And look out for Register Hardware's nForce 780i review later this week.
Related Reviews
• Nvidia G92-based GeForce 8800 GTS 512MB
• Nvidia GeForce 8800 GT