Mac accessory maker Sonnet Technologies will this week begin selling its ExpressCard adaptor capable of taking a staggering 21 different memory card types.
Unlike previous ExpressCard 34-format card readers - such as Griffin Technology's ExpressCard 5:1 Reader, reviewed here - 21-in-1 Multimedia Memory Card Reader and Writer supports the latest 4GB and higher SDHC cards.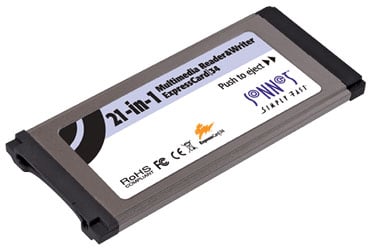 Sonnet's 21-in-1 memory card adaptor: now writes too
Sonnet announced a similar adaptor back in August calling it the 12-in-1 card, though it was only capable of reading memory cards. Since then, Sonnet's increased the number of formats the adaptor can accept, though it admits that many of them require secondary adaptors. It'll take Micro SD and Mini SD cards, for instance, but only if you've an SD-shaped adaptor.
The company's also added the ability to write to cards since that's what most rival products could already do.
Still, for folk with an MacBook Pro or a Windows machine with and ExpressCard slot and no memory card reader, Sonnet's offering will take almost all the key memory card formats except CompactFlash.
The 21-in-1 Multimedia Memory Card Reader goes on sale on Wednesday for around $30.
Related Reviews
• Griffin ExpressCard 5-in-1
• Sonnet Tempo SATA Express 34 ExpressCard eSATA adaptor


Sponsored: Ransomware has gone nuclear