'Death Star' galaxy blasts neighbour
Black hole death ray caught on camera
---
NASA has identified a rather unfriendly galaxy which is blasting its neighbour with a black-hole generated jet in what the agency calls "never-before witnessed galactic violence".
The 3C321 system comprises two galaxies orbiting round each other at a relatively close 20,000 light years, with both packing super massive black holes at their centres. The smaller of the two has evidently "swung" into the path of the jet emanating from its companion's black hole, and is taking a bit of a pounding as a result: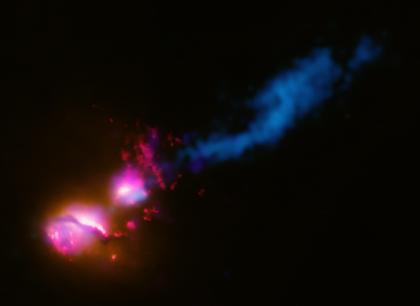 NASA, which assembled the above composite from data collected by its Chandra X-ray Observatory, Hubble Space Telescope, the Spitzer Space Telescope, The Very Large Array telescope in New Mexico, and the UK's Multi-Element Radio Linked Interferometer Network (MERLIN) telescopes, explains:
In the image, data from several wavelengths have been combined. X-rays from Chandra (colored purple), optical and ultraviolet (UV) data from Hubble (red and orange), and radio emission from the Very Large Array (VLA) and MERLIN (blue) show how the jet from the main galaxy on the lower left is striking its companion galaxy to the upper right. The jet impacts the companion galaxy at its edge and is then disrupted and deflected, much like how a stream of water from a hose will splay out after hitting a wall at an angle.
Dan Evans, a Harvard-Smithsonian Centre for Astrophysics scientist and leader of the 3C321 study, said: "We've seen many jets produced by black holes, but this is the first time we've seen one punch into another galaxy like we're seeing here. This jet could be causing all sorts of problems for the smaller galaxy it is pummelling."
Such problems might include a very bad time for any inhabited worlds in the jet's path, since its high-energy X-rays and gamma-rays could "severely damage the atmospheres of planets lying in the path of the jet".
It's not all doom and gloom, though, since NASA notes the "massive influx of energy and radiation from the jet could induce the formation of large numbers of stars and planets after its initial wake of destruction is complete".
Whether the jet's effects are ultimately good or bad for the galaxy on the receiving end, the event gives scientists an opportunity to extend their scant knowledge of such phenomena. Co-investigator Martin Hardcastle, of the University of Hertfordshire, said: "We see jets all over the universe, but we're still struggling to understand some of their basic properties. This system of 3C321 gives us a chance to learn how they're affected when they slam into something like a galaxy and what they do after that."
The team's findings will be published in The Astrophysical Journal. ®