Asus' elfin Eee PC is coming to Japan and it's going to get 16GB of solid-state storage, it has been claimed. Meanwhile, in the UK availability has reached Wii-like limits, according to insiders.
A report by Akihabara News today claimed Asus' Japanese operation said that the Linux-based sub-laptop will be released over there soon.
Interestingly, while Asus has talked before about offering a version of the Eee PC with Windows XP pre-loaded, the site claims it's finally going to happen with the Japanese launch.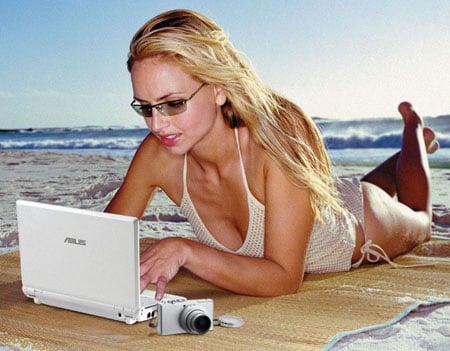 Asus Eee PC and friend: turning Japanese
With some pruning, Windows XP works rather well on the Eee PC, but our Asus moles say Microsoft really wants to see Windows Vista running on the little laptop. While that's tricky given the machine's 600MHz processor - it's underclocked from 900MHz - integrated graphics and limited storage capacity, perhaps that boosted 16GB SSD is a sign of a more powerful Eee PC to come.
Maybe, but right now British buyers would just like to see the 4GB model become rather easier to get hold of. Many suppliers are listing both the white and black versions of the machine, but few have stock.
An Asus spokesman told Register Hardware that new machines are arriving in the UK on a weekly basis, but a source familiar with the situation compared Eee PC availability with that of the Nintendo Wii - a console notoriously hard to buy here at any given time.
Related Reviews
• Asus Eee PC