This article is more than 1 year old
Japan scores ballistic missile shootdown bullseye
Navy Self-defence force in 100-mile-high skeet shoot
Japan has become the second nation to acquire functioning ballistic-missile defence equipment, carrying out a successful shootdown yesterday. A target rocket representing a medium-range enemy missile was engaged and destroyed 100 miles above the Pacific by a Standard SM-3 interceptor fired from a Japanese warship, JS Kongo. The target took off from the US Navy missile range facility on Kauai, Hawaii.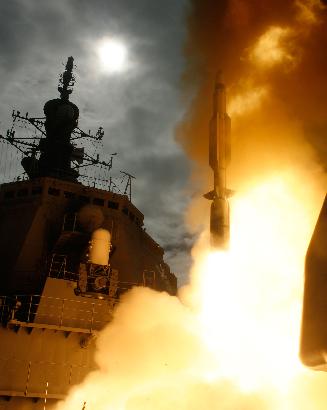 JS Kongo pops one off.
The Japanese Maritime Self-Defence Force (JMSDF, the title given to the country's navy after World War II) has operated destroyers carrying US Aegis air-defence technology for some time. In 2003, the JMSDF was authorised to upgrade its ships with the latest SM-3 interceptor weapons and tracking kit. This gear has been developed by America for shooting down short and medium-range, Scud-type ballistic missiles of the kind found in the arsenals of many minor powers. The SM-3 can't pick off a true, triple-stage intercontinental missile - ICBMs fly too high - but the Aegis radar can help to track such threats.
Japan has moved to acquire Aegis missile defences in response to menacing moves by North Korea in recent years, which have included firing a "test" weapon right over Japan into the Pacific. Kongo-class ships deployed west of Japan could offer a useful defence against the current North Korean armoury, though Kim Jong-Il's regime is working on a proper ICBM.
Aegis and Standard gear is made by Boeing, at considerable cost. Yesterday's shootdown was the 12th score for SM-3 in testing, the company said.
"This successful test brings a new level of defensive capability and security for our ally Japan," added Debra Rub-Zenko, Boeing veep.
"We will continue to strive to increase the system's credibility," Japanese Defence Minister Shigeru Ishiba told AFP.
"We can't talk about how much money should be spent when human lives are at stake."
The news wire said, however, that the missile-interceptor test had "outraged peace activists" in Japan, and quoted Tokyo professor Yoshikazu Sakamoto as saying that it could arouse "suspicion in enemy countries".
A number of other countries have equipped their navies with Aegis equipment from America, including Spain and South Korea. They too could potentially acquire similar Scud-buster upgrades. ®