It was ridicule from Register readers that helped kill one of the year's daftest ideas. The £150m-a-year "Public Service Publisher" quango is Ofcom Chief Ed Richards' pet initiative: he views this bold foray into gimmicky interactive games and Web 2.0-buzzword compliant websites as his "legacy".
Your response to Ofcom's PSP consultation process dripped with sarcasm, and a Parliamentary Select Committee appeared to kill the idea for good with the withering conclusion that the quango was "a cure with no known disease".
"Welfare for Wankers" is just one of the more colourful descriptions we've heard of the PSP.
But a fresh attempt to revive Ed's Obsession appears in today's Guardian newspaper. This time Ofcom is floating the idea that the "Nathan Barley Quango" will be paid for out of the TV licence fee. In other words, a compulsory regressive tax will be used to line the pockets of Web 2.0 luvvies.
The idea is buried deep in a story about the BBC. PSP's supporters "believe a revised version of the idea, funded by public cash, should be considered as a key plank of [Ofcom's] proposals," the paper reports.
Well, naturally.
"A new body could consider requests for both one-off projects and ongoing funding from existing media groups [our emphasis] as well as other public bodies such as museums and art galleries, plus new entrants such as community TV channels."
Public handouts draw long queues. And who'll pay this time?
"Whitehall sources said it was unlikely the Treasury would countenance funding it from general taxation, making 'top slicing' the licence fee the most likely option once the BBC's current deal runs out in 2013."
All aboard the gravy train!
Today, TV licence fee payers expect Jeremy Paxman in return - not Nathan Barleys. The sheer naffness of the PSP concept was illustrated by the Ofcom consultation document, as you can see here: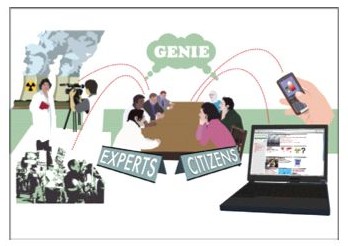 It isn't hard to see why Friends of Ed chose the Graun to revive the idea: it's home to the only Media Section which wouldn't laugh the idea out of the room.
The Guardian also gives a fortnightly column to one of the PSP's biggest supporters (and potential beneficiaries), Anthony Lilley - a tireless recycler of Web 2.0 cliches. Lilley it was who co-authored the Ofcom consultation document - and advised the modest budget of £150m a year. But as he himself let slip to us back in March - it isn't just "self-facilitating media nodes" who stand to benefit from Ed Richards' Gravy Train.
The Guardian newspaper lost £15.9m last year, and has a burgeoning interactive operation to support. As Lilley told us in March - and El Graun's Owen Gibson confirms today - "newspaper groups see they could be in partnerships" with the PSP.
Now that's what you might call a beautiful alignment of interests. ®