Canon PowerShot A460 compact camera
Cheap and cheerful
---
Review Quality used to cost. We all know that whenever we bought a consumer electronics product, part of what we paid went on the brand name. Well, things have changed and the Canon PowerShot A460 is sure testament to this, and a snip at just £70, the A460 is very much a budget-priced product.
At this price, quite a few compromises have to be made. For starters, this is hardly the most compact camera in town - indeed, it's rather on the bulky side. That said, we happily carried it around in our pocket and it didn't give our jacket a noticeable bulge.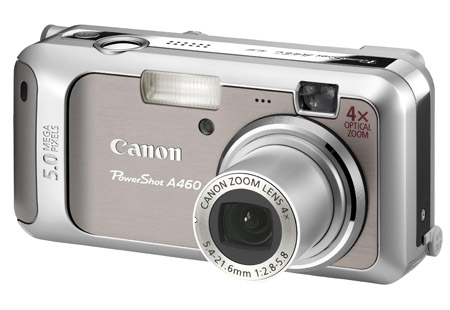 Canon's A460: bulky but budget-priced
The A460 is also supplied with two alkaline AA batteries, so it's going to cost a little more to run - although opting for rechargeables will help cut the cost.
This probably explains why the A460 has both a 2in LCD screen and an optical viewfinder. The latter making it possible to switch off the screen and save battery power. Still, it's nice to have a viewfinder for those bright sunny days.
The A460 comes with a few accessories, including a combined AV/PC cable, puny 16MB MMC card - it also takes SD and SDHC cards - and the ubiquitous CD containing the instruction book and photo software.
Taking a trip around the camera, on the top is a large power button and shutter control, with a small AV port covered by a plastic cover on the right. At the back is the LCD display, viewfinder, display and menu buttons, function set control and printer button. There's also a large rocker control that doubles as zoom control and gives access to macro and flash settings. Also on the rear is a dial for selecting auto or manual control, scene settings and movie mode. At the other side of the camera body is the battery/memory card cover.
Despite its modest price, the A460 offers a fair sprinkling of features, including a five-megapixel sensor; 4x optical zoom equivalent to 38-152mm on a 35mm camera; and 12 shooting modes, including Portrait, Fireworks, Night Snapshot, Kids & Pets, plus colour effects, like sepia, and black and white, which can be applied to both still images and movies.