This article is more than 1 year old
Supersonic stealth jumpjet rolls off production line
Harrier successor: very cool, but is it useful?
The plane which will replace the famous Harrier "jump jet" passed an important milestone yesterday, with the first production F-35B rolling off the assembly line at US builder Lockheed Martin.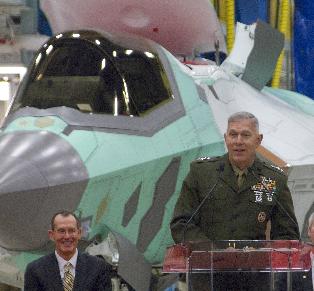 The F-35B rollout ceremony. Note the raised covers above
the lift fan and supplementary dorsal engine intakes.
Most of the F-35B's abilties have been seen previously in other planes, but never all at once. Like the Harrier, the new bird is STOVL capable (Short Take Off and Vertical Landing). It can get airborne after only a very short takeoff run, and after completing its mission - so losing the weight of expended weapons and burnt fuel - it can hover down to land on a small pad. The F-35B gets added lift from a fan mounted in a central shaft, rather than relying solely on swivelling its jet exhaust nozzles downward like the Harrier.
STOVL capability means that the jet can potentially operate from short, improvised airstrips rather than needing a proper airbase runway. It also allows launch and recovery from a small aircraft carrier of the type currently employed by several of the world's second-rank naval powers - for instance the UK and Italy, which both plan to buy F-35Bs.
In the American military, the new jumpjet will be bought by the US Marines, replacing their large force of Harriers. The jarheads* like being able to fly jets from their (comparatively) small amphibious-assault ships as well as full-size US carriers. They also value the ability to work from improvised runways, or ones in poor condition. (As an example, the Harrier was until fairly recently the only fighter cleared to operate from the poorly-maintained runway at Kandahar in Afghanistan.)
"This generational leap in technology will enable us to operate a fleet of fighter/attack aircraft from the decks of ships, existing runways or from unimproved surfaces at austere bases," said General James Conway, the head jarhead, speaking at the rollout ceremony.
"We find that capability extremely valuable."
In addition to its eyecatching STOVL ability, the F-35B also shares the attributes of the other F-35 versions; most importantly Stealth and supersonic speed, so far combined only in the F-22 Raptor uber-fighter. The revolutionary new jumpjet has already made a movie appearance, in Bruce Willis haxploitation action flick Die Hard 4.0, in which a jarhead pilot - misled by sinister blackhats into the belief that superheroic plod John McClane is actually a baddie - attempts to settle his hash, hovering about gratuitously while merrily shooting up a freeway crowded with innocent Americans.