The music performance here really is top class. The supplied in-ear 'phones are better than you'll get on many MP3 players and are capable of producing a sturdy amount of bass as well as subtlety in higher frequencies. It's a very pleasing all-round audio performance. You can tweak equaliser settings, or add MegaBass to the low end too. It'll play them through the phone's speaker too.
Strangely, Sony Ericsson has placed the headphone/charger socket on the side of the phone, which is not the best place if you've got the phone slipped in your pocket - particularly as it uses a chunky proprietary connector rather than a standard 3.5mm socket.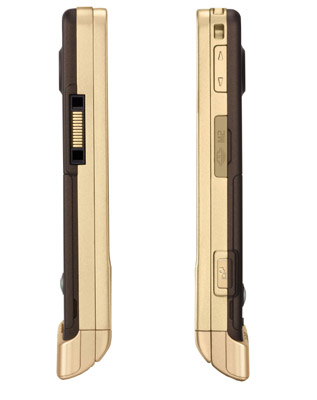 Inspired by the Walkman W880?
The supplied earphones are a two-piece set, with a 3.5mm-jack adaptor on the hands-free microphone halfway up, so you can plug in your own Sennheisers if you feel the need. We tried with our reference-quality headphones and the sound quality was excellent.
You could also use the phone's stereo Bluetooth facility to try out wireless headphones or stream to a speaker system.
As well as getting tunes out, there are plenty of options for getting music onto the phone too. The HSDPA connectivity offers theoretical maximum speeds of up to 3.6Mb/s if you're downloading tracks over the air from a network operator's music store or other source. And you can transfer tunes or video from a PC by using a USB cable and Media Manager. Alternatively, you can drag and drop tracks on to the W910i by using it in Mass Storage mode, or Bluetooth tracks from other devices. Another free source of tuneage is the built-in FM radio with RDS.
Sony Ericsson's neat TrackID song identification software is loaded onto the W910i, giving you the opportunity to find tune details easily by recording snatches of music heard around you or on the radio, and getting them ID'd over the air automatically via a short data enquiry.
Similar topics