The two-megapixel camera on the W910i can produce some pleasant snaps in print quality, but it's not the most specced-up shooter that Sony Ericsson produces. Pre-shooting adjustments are confined to picture size - 2Mp, 1Mp or 0.3Mp/VGA - white balance settings, a night mode, and a few colouring effects. You can opt for multi-burst shots, panorama option or a fun frames mode, and there's a timer too.
Image quality is fine generally and most users will be happy with the results, which are better than the average two-megapixel shooter, flash notwithstanding - night shots can be noisy. But there are limits to the quality of imaging that can be achieved with a fixed-focus lens, no macro and limited lighting controls. A shame that Sony Ericsson hasn't transplanted some of its Cyber-shot expertise across to its Walkman range yet.
There are basic post-shot editing options in phone, with Sony Ericsson's PhotoDJ and VideoDJ apps, and some slideshow transitions and presentation options. You can also upload images or video clips, with accompanying text, automatically to a Blogger account directly from the handset as one of the send options.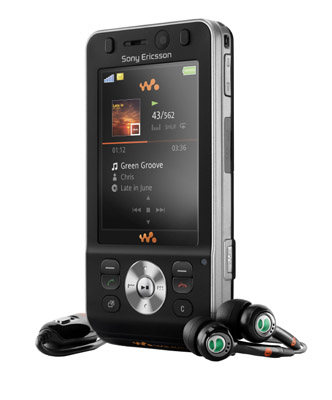 Once again, a stonking music player
Video recording is reasonable at its maximum QVGA, 15f/s setting, but as limited in quality as most mobiles. Video playback of downloaded or sideloaded content is very watchable, however, and we liked the auto landscape flipping when video is played back.
On top of improving downloading speeds, 3G here notches up the browsing experience. The NetFront browser can be pleasingly quick, particularly with HSDPA cracking the whip. Usefully, you can line up RSS feeds too if you want to get updates without having to browse all your favourite websites or blogs. Email is supported, and Sony Ericsson supplies the W910i with the usual array of organiser functions – calendar, notes, to-do lists and so on – which can be synced with a PC. There's even a musical chord teaching application, Music Mate 4 featuring a tilt-to-play virtual drum kit.
On the gaming front, the W910i supports 3D gaming, and three games are supplied: Lumines Block Challenge, V-Rally 3-D and Marbles Madness. The latter is controlled by the phone's motion-sensor – you tip the phone to control the marble rolling around the screen - which is strangely addictive.
As well as all the multimedia goodies, you get a great phone thrown in too. Voice quality on the W910i was excellent in all calls we made, with no dodgy signal levels. Battery life quoted by Sony Ericsson is reasonable, though not the longest for one of its 3G phones: standard GSM delivers up to nine hours' talktime or 350 hours on standby, whereas in 3G coverage talktime slips to three hours 30 minutes.
In normal usage, listening to the music player and playing games a lot, or using other features that work the display, are going to impact on battery life. Playing the music player alone in flight mode could give you up to 20 hours of playback, Sony Ericsson claims, but will reduce significantly standby or talktime figures.
Verdict
It's good to see that Sony Ericsson is evolving its Walkman phone range with the W910i. Shake control in its earliest implementation might be more gimmick than must-have gadgetry, but we can also see its potential. Other elements could be better – the camera and connector positioning for instance - but the W910i has got some great stuff going for it, including HSDPA. And at the beating heart of the phone is an excellent quality music player that really delivers.

Sony Ericsson Walkman W910i motion-controlled phone
The shake of things to come...
Price:
Contract: from free to £100. Pre-pay: £260. Handset only: £260 RRP
Similar topics