Devolo dLAN Wireless Extender
Spread wireless goodness with powerline
Review Powerline Ethernet specialist Devolo's latest offering is the logical next step in bridging the worlds of mains power networking and Wi-Fi. You can link a standard access point and a router over a powerline link, allowing to fill your house with wireless goodness despite its radio-unfriendly walls - or you can plug one of these boys in.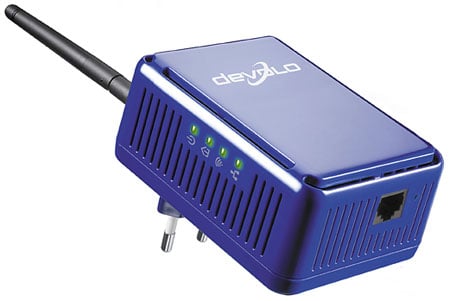 Devolo's Wireless Extender: widen your WLAN
The dLAN Wireless Extender is a shiny blue box with a three-pin power plug on the back, a 100Mb/s Ethernet socket on the bottom and a Wi-Fi antenna on the top. The idea is, you fit an 85Mb/s HomePlug 1.0 Turbo-compatible powerline unit between your wireless router and your home or office's mains power supply, and plug the Extender into a power socket somewhere else in the house.
Don't have an 85Mb/s adaptor handy? Worry not, Devolo will sell you one boxed up with a Wireless Extender as a handy starter kit.
With the WE in place, you can use it as the basis for a separate wireless network operating alongside yours or as an extension of the one you've already got. Router and Wireless Extender both operate as radio sources, sharing data over the power lines as if they were connected directly with standard Ethernet cabling.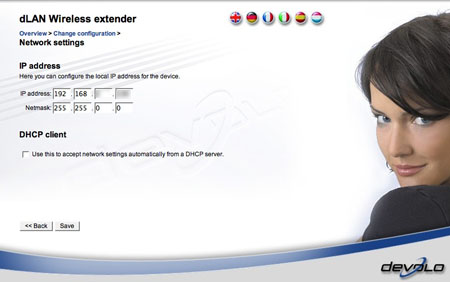 Consumer-friendly web UI
There's a second option: don't use the Extender as an access point but as a client. It connects to the router just like any other wireless device, but this time it shares that connection with other devices across the powerline link. You could use this set up to link two houses, for instance, bridging the physical divide with the wireless connection. Or you could use it to add wireless to a wired-only gadget.