Nintendo took the crown last week for pre-Christmas console sales in Japan, with sales of Wiis and DS Lites higher than all the others combined.
The DS Lite topped the chart - again - with unit shipments totalling 279,551 consoles for the week to 23 December 2007, according to Japan's Media Create organisation. As you can see from the chart below, the console's week-on-week sales growth continues unabated.
Japanese Consoles Sales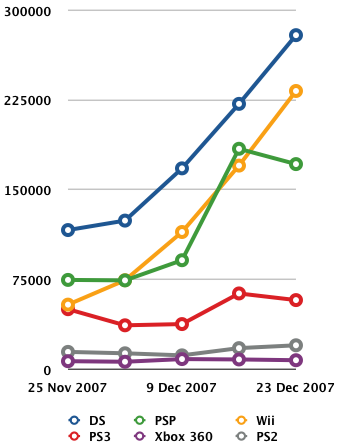 Source: Media Create
Ditto the Wii, with weekly sales of 232,907 units. For the last four weeks, the total rises to 593,286, well behind the DS Lite's 794,529 but ahead of the PSP's 522,521 sales. Sony's handheld notched up sales of 171,804 units last week, down on the previous seven-day period's tally.
PS3 sales were down to, to 58,167 units. Japanese consumers aren't taking it to the their hearts. Gamers are, however, suggested by the steady weekly sales, mirrored in the continuing demand for the Xbox 360 and the PS2, which racked up weekly sales of 7908 and 20,391, respectively.
Four-week sales totals for the PS3, PS2 and 360 are 197,102; 64,106; and 31,977, respectively.