This article is more than 1 year old
The Electric Car Conspiracy ... that never was
What a hit movie really tells us about innovation
It's almost two years since the debut of Chris Paine's documentary Who Killed the Electric Car? The movie has been a success in US theatres and often comprises one half of a double bill with Al Gore's An Inconvenient Truth. But what the success of the movie tells us is more alarming than any conspiracy it purports to unveil: a disdain for engineering, for technological innovation, and most of all a disdain for us, the consumers.
It's the story of General Motors' ill-fated EV1 electric car.
A hundred years ago, Who Killed? observes, General Motors bought up trolley car firms just to close this source of competition down. Today, it suggests, a covert alliance of Big Oil, Big Auto and corrupt regulators, both in California and in the federal government, has killed the electric car.
Vogueishly, Who Killed the Electric Car? makes transparent all the evil personalities connected around these three forces. In legal style, it finds them guilty of murdering General Motors' two-seater Electric Vehicle 1 (EV1). It shows the usual nauseating network of silver-haired execs, lobbyists and politicos, but gives some emphasis to George W Bush (a quack salesman for hydrogen cars) and Alan Lloyd, chairman of the California Air Resources Board (CARB), 1999-2004.
Hand made
The story starts in 1996, with GM putting EV1s 'all over California' - or at least that's the claim with which the film opens. In fact, GM made a total of just 800, which doesn't say much for the machine's real ubiquity. GM's Saturn division built four a day, by hand. Each cost $250-500 a month to rent, which is by no means exorbitant. Quite a few EV1s were lent to celebrities, including Mel Gibson, Ted Danson. Indeed, Tom Hanks told the David Letterman show that a single charge for a range of 70-80 miles a day was all he needed personally. Anyway, Hanks proclaimed somewhat tongue in cheek, "I'm saving America".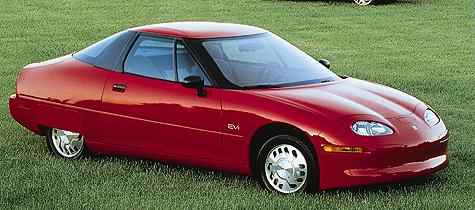 GM's EV1 electric car
But GM's heart wasn't in it, the movie explains. From its smoked glass HQ in Detroit, the company failed to promote the EV1. GM's ad campaign - shock, horror! - failed to feature good looking men and women. GM pointed up the car's limitations, and Gibson and Danson were asked to make deeply bureaucratic 'case statements' about it. Then oil firms campaigned against the state of California spending public money on roadside electrical charging stations. Soon, too, Mobil mobilised editorials hostile to the electric car in the pages of USA Today and Newsweek.
Some time after 1987, when GM chief Roger Smith first challenged his company's designers to come up with an electric vehicle, the California Air Resources Board became interested in the project. CARB had seen GM's first prototype of the EV1, the fatefully misnamed Impact. In 1990, CARB passed the Zero Emission Vehicle Mandate, requiring a rising percentage of California's cars to be free of emissions. Not too long after that, however, US car manufacturers negotiated a Master Memorandum of Agreement with CARB ensuring that the mandate require them to build the electric car only to the extent that there was consumer demand for it.