Review The basic version of the 17in laptop Xtreme X770 packed GeForce 8700M graphics. Rock recently offered GeForce 7950 Go GTX graphics with 512MB of dedicated GDDR 3 memory to give your games more oomph, but that's history now, 'cause the GeForce 8800M GTX is here.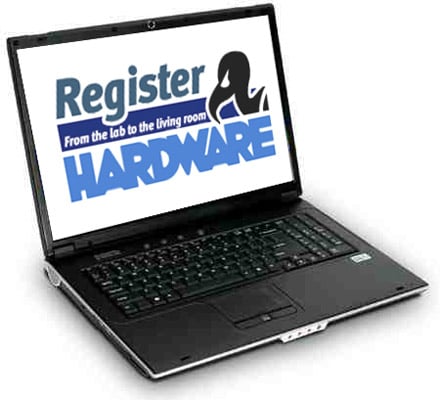 Rock's Xtreme X770: worth more than two grand?
This new chip has a great deal in common with the desktop GeForce 8800 GT and GTS that we've already reviewed here and here, and is based on the same 65nm 'G92' chip. The number of unified-shader Stream Processors has been cut to 96 - the GT has 112 and the GTS 128. The core speed has been reduced to 500MHz, down from 600MHz and 650MHz in the desktop part, and a few hundred megahertz have been clipped off the memory speed, but in the main the 8800M GTX delivers comparable performance to a desktop 8800 GT.
There's another version of the 8800M called the GTS which runs at the same clock speeds as the GTX but which only has 64 Stream Processors. However, Rock doesn't offer the GTS as an option so we'll ignore it in this review of its laptop.
Let's first get the bad news out of the way: the 8800M GTX options costs £400 inc VAT over and above the 8700M version so we're talking about a stack of cash that takes the total price of the X770 laptop to £2199.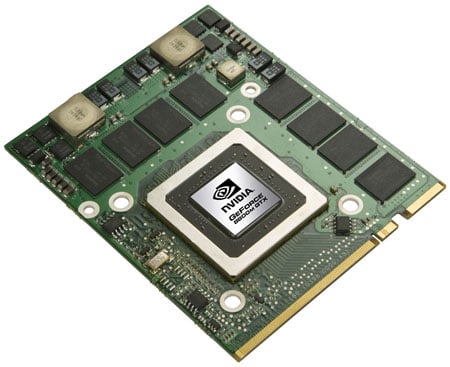 Nvidia's 8800M GTX on a MXM module
Can any laptop possibly be worth that sort of price? Rock sent us two versions of the X770 for this review. We're comparing the 7950 Go GTX version at £1916.50 with the 8800M GTX at £2199, and they're identical in every respect apart from the graphics module, the driver and the price.