The clue lies in the specification. The 7950 Go is rated at 45W while the 8800M GTX requires less power and only consumes 37W when it's under load which is very impressive as the 8700M GT only needs slightly less power at 29W.
Based on past experience you can take the battery test results of 1 hour 24 minutes for the 8800M and 1 hour 2 minutes for the 7950 Go and double them to get a realistic battery life in regular use so the 7950 Go is poor whereas the 8800M is just a bit low.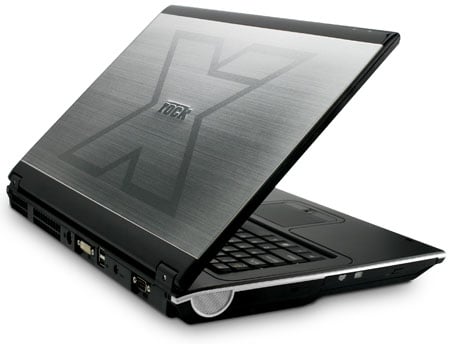 Weighty
There's no doubt in our mind that the GeForce 8800M GTX graphics are absolutely superb but what about the rest of the laptop? The use of a 17in screen results in a laptop that's big and heavy, but you need a screen resolution of 1920 x 1200 to make any sense of this sort of graphics power so Rock's choice makes perfect sense. The problem is that the X770 isn't especially portable and isn't much use on a train or plane as it takes up too much space and the battery life is hopeless.
Considering the epic price of even a basic X770 you don't get a great many features for your money. The chassis feels good and solid but the keyboard, touchpad and mouse buttons are decidedly average. Going around the ports and connectors there's a DVI - there's a VGA adaptor bundled in the box - s-video output, four USB ports, a mini Firewire connector, a serial port (!), an ExpressCard slot, modem and Ethernet. Although the chassis carries a TV aerial connector, the TV tuner is an extra that costs a further £76.
There's no flick switch to control wireless LAN or Bluetooth and there's nothing about the Rock that suggests you're using more than two grand's worth of the finest gaming laptop that money can buy.
While we're moaning about the price of extras, it'll cost you another £76 for Windows Vista Ultimate or – get this – you can pay an extra £50 for the older Windows XP Pro in place of Windows Vista Home Premium.
Mobile Nvidia Graphics Chips Compared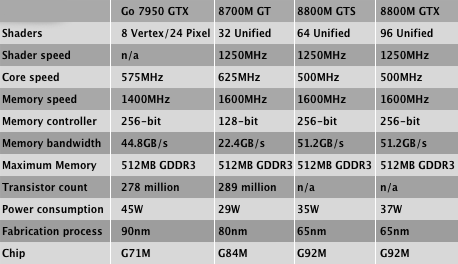 Would we buy an X770 with GeForce 8800M graphics? To be honest, no, but that's because we can't contemplate spending more than £2000 on any laptop on the market. Still, we were absolutely gob-smacked by the X770's stellar performance.
If you're tempted, you may be interested to learn that Rock offers a seven-day "peace of mind guarantee". Return your notebook within seven days and it'll give you your money back, the company says - excluding carriage charges, of course.
Verdict
The basics of the Xtreme 7700 consist of a 'Santa Rosa' Centrino foundation with Intel Core 2 Duo CPU and 2GB of DDR 2 memory, but the Nvidia GeForce 8800M graphics and 17in HD screen take this laptop to another level that offers stunning gaming performance - albeit at a monumental price.

Rock Xtreme X770 laptop with Nvidia GeForce 8800M graphics
Fancy playing Crysis on the move? Rock's GeForce 8800M-based X770 handles the job superbly...