You'd have thought that everyone knows the Chameleon can change the colour of its skin. But not the designers of the latest USB gadget, it seems. "This product does not change colour," warns UK supplier Drinkstuff.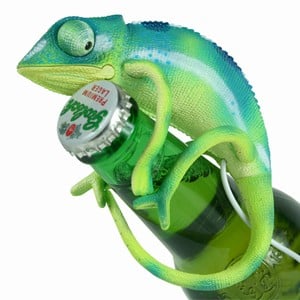 The USB Chameleon: doesn't... er... change colour
What, we ask, is the effin point of the thing then? Well, connect it to a spare USB port on your PC and the latex lizard will roll its eyes and poke out its tongue. It's bendy arms, legs and tail can be used to attach the beast to a wide variety of desktop objects.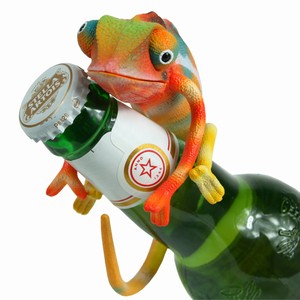 Cheeky chappy
Object of endearment... or irritation? You decide.
The Chameleon is coloured. Drinkstuff is offering the critter in three colour schemes - red and orange; blue and green; and yellow and red - but which one you get is a lucky dip whenever dispatchers reach into that big, product-packed cardboard box sent over from China.
Undeterred? Then the USB Chameleon is available now for £15 from Drinkstuff.