A University of Arizona law school student and former Miss Arizona contestant has been indicted on five felony charges for kidnapping her ex-boyfriend, holding him for ten hours in Tuscon "while torturing and robbing him", the Arizona Daily Star reports.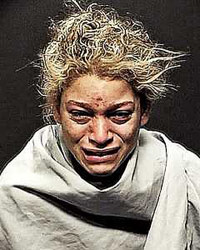 Kumari Fulbright, 25 (right) appeared in Pima County Court on 18 December on charges of armed robbery, aggravated robbery, kidnapping and two counts of aggravated assault with a deadly weapon. She and three male accomplices are accused of "tying up a 24-year-old man with plastic cable and duct tape" on 8 December and "holding him captive at two residences, one on the North Side and the other in Midtown", as court documents explain.
They elaborate that the four suspects "pointed pistols at the man, threatened his life and stole his wallet, cell phone, briefcase and $500 to $600 in cash", adding: "(Fulbright) specifically bit him several times while he was bound, stuck a butcher knife in his ear and said she was going to kill him, pointed a pistol at him."
After eight to ten hours "the victim was able to grab Fulbright's gun, the gun went off and he ran out of the house screaming for help".
The search-warrant inventory filed in court says that police subsequently found "an expended bullet at a home in the 1200 block of East Knox Drive along with .45-caliber ammunition, plastic gloves, marijuana, the victim's wallet and briefcase, and a book, How to Win Friends and Influence People", as well as "duct tape at a home in the 2400 block of North Bryant Avenue".
Fulbright, described by the Arizona Daily Star as "Miss Pima County in 2005 and Miss Desert Sun in 2006", and alleged accomplice Larry Bruce Hammond, 40, were later arrested.
In court, Fulbright's attorney Tom Hartzell described his client as "a promising first- or second-year law student who hopes to go into entertainment law". He asserted: "We're eager to see the process through and for the truth of this matter to come to light. My preliminary investigation indicates the alleged victim is not the most savory individual and will be coming to court with a whole lot of baggage of his own."
Court papers indicate that the victim was charged with "assault and disorderly conduct" back in March, although they were dismissed in early December "after he completed a diversion program". The possible link between these charges and Fulbright is not noted.
Fulbright was released from the Pima County jail on $50,000 bail, while her accomplice Hammond remains incarcerated on $50,000 bond. Police are still hunting brothers Michael Ergonis, 46, and Robert Ergonis, 44, in connection with the crime. ®