Relive music piracy the way it used to be done, back in the days when even Shawn Fanning was a glint in someone's eye*, let alone his original Napster app and the P2P world it spawned. Yes, we're talking cassette tapes and a 21st Century take on this format of yesteryear.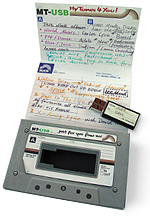 USB Mix Tape: relive the 80s... the 80s.
It's a 64MB USB Flash drive that comes in a cassette-like box. UK retailer Firebox.com has six of them, all sporting different designs that almost but not quite match famous blank-cassette brands of two decades past.
Alas, you can't choose which one you get...


Is it real or is it Mock-xell?
The cassette unit itself is a moulded bay for the drive, but it's wrapped in a cardboard cover with space to write in the names of songs just like we all did in the Sixth Form years ago.
Not that nostalgia comes a cheaply as five-packs of C60s did: Firebox wants £20 for the USB Mix Tape. You can buy a no-name Flash drive that offers 64 times the capacity of this one for not much more than that price.
And the gadget could at least come in an old-style plastic case and inlay, we'd say.
Want to relive that 1980s vibe nonetheless? Then shuffle over to Firebox.com.
And don't forget, home taping is killing music...
* Well, just about. He was born in 1980.