CES Pioneer this morning presented what it claimed is the first ever "hybrid" navigation system, a GPS box designed to work with almost any mobile media source, including iPods and Bluetooth-equipped mobile phones.
Through a combination of USB and Bluetooth for connectivity, SD memory cards and any audio input, the AVIC-F500BT can operate as both an entertainment centre and as a sat nav device. When a device is connected physically or wirelessly, the gadget recognises it as a source and controls it via the touchscreen and/or voice.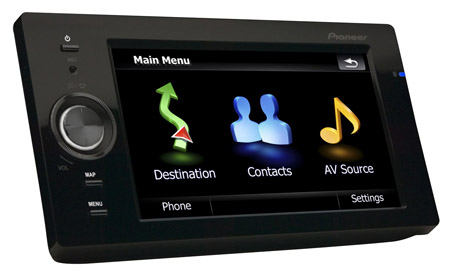 Pioneer's AVIC-F500BT: simple UI
According to Pioneer, this is the first product of its kind to include the VoiceBox Conversational Voice Search Platform, which interprets what you tell the device.
The 5.8in WVGA display shows maps and POIs with two view modes: overhead and 3D. When a destination is entered using the touch screen, a step-by-step route guide is displayed, followed by audio prompts through the the in-car speakers. Standard, by-the-numbers sat nav, in other words.
The unit will be available in the US this coming Spring 2008, though Pioneer didn't say how much it will cost.