Sony has found its way back into the sat nav market and unveiled two GPS devices which it claims offer an extra position finder over established GPS technology.
The NV-U73T and NV-U83T both feature Position Plus which, Sony claims, uses pressure sensors, gyro sensors and acceleration sensors to help calibrate the driver's position, in addition to their SiRF Star III GPS chips.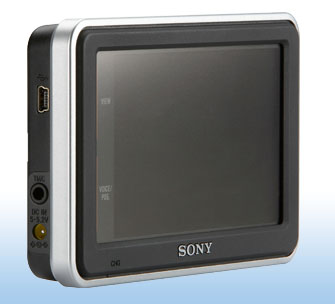 Sony's NV-U73T: a 4.3in screen, but no Bluetooth handsfree calling
Sony's also created a menu shortcut system called Gesture Command that allows users to flick directly to individual screens on their sat nav, without manually trawling through multiple sub-menus.
For example, if users sketch a roof with their fingers on the display then they'll be taken to the home screen. Other gestures include zoom in/out and call home, although Sony hasn't said what the doodle for these actions is.
The NV-U73T has a 4.3in display, and NV-U83T a slightly larger, 4.8in screen, but both have 2GB of Flash memory and slots for Sony's Memory Stick Pro Duo cards. Each also feature text-to-speech, voice command activation and "super suction" cups, which Sony claims makes both virtually immoveable. Although, let's hope it doesn't leave an overly visible windscreen mark for would-be thieves.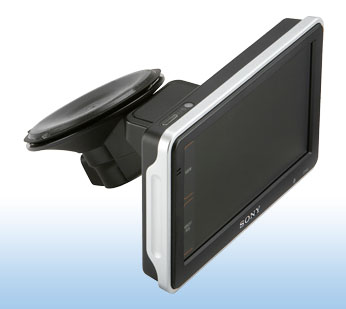 Sony's NV-U83T: a larger display, Bluetooth calling and dual-screen display feature
Its NV-U83T is the more expensive of the two models, as it also features Bluetooth handsfree calling and a split-screen feature for viewing two map layouts simultaneously.
Both models are initially expected to go on sale in the US with around five million points of interest built in, and brand icons for places like restaurants and petrol stations. So your screen could be a mass of yellow M's and Texaco signs.
Sony said it expects both models to be available in the US next month, with the NV-U73T priced at $350 (£175/€220) and the NV-U83T at $500 (£250/€295). However, a European release date or prices haven't been located yet.