Samsung shows second-gen dual-format HD disc player
Will it ever arrive?
CES Samsung has introduced its second Duo HD-branded dual-format next-gen optical disc player, though the machine isn't due to go on sale until the second half of the year.

Samsung's BD-UP5500: second-gen dual-format player
Presumably it'll replace the current Samsung Blu-ray Disc and HD DVD player, the Duo HD BD-UP5000, when it does. There's not a massive difference between the BD-UP5000 and the new BD-UP5500. The latter supports Blu-ray's Bonus View picture-in-picture commentary mode, along with BD Java for on-disc interactive applications.
It also supports HD DVD's HDi interactivity technology, which was once the BD-UP5000's advantage over rival manufacturer LG's dual-format player, the Super Blu BH100, which would only play HD DVD movie content. However, LG's recently released Super Blu BH200 supports HDi too.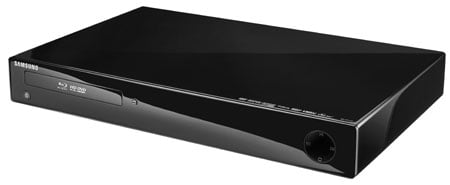 Fully interactive, very shiny
Mind you, given last week's Warner Home Video move to support solely Blu-ray, and claims that Paramount might now do the same, does the world really need dual-format players any longer? Well, with almost a million HD DVD player owners in the US alone, undoubtedly Samsung and LG reckon their products provide those folk with the safest upgrade path.
The 5.8cm-high Samsung machine has an HDMI 1.3 port to allow it to support 10-bit Deep Colour when disc content is so encoded. There's an Ethernet port for network connectivity, both to get firmware updates and to download online add-ons bundled with discs.
On the audio side, the player supports 7.1-channel PCM sound, DTS-HD High Resolution and Master audio, and Dolby TrueHD Bistream via HDMI.