Brit violinist does a Radiohead
Free download to 'popularise classical music'
---
Brit violinist Tasmin Little will next Monday do a Radiohead and release her latest recording online in an attempt to "popularise classical music", as Reuters puts it.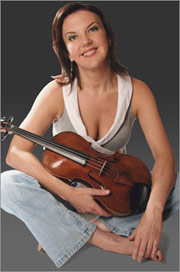 Ms Little, 42, is giving the whole thing, entitled The Naked Violin, away absolutely free - thereby allowing music buffs to avoid the terrible dilemma posed by the In Rainbows "pay-what-you-fancy" net launch: to not pay anything for the album and not give a tinker's cuss; or to not pay anything and feel mildly guilty for about ten minutes.
Little told Reuters: "I've done this with no intention of making money, but I feel very strongly that classical music suffers from misperceptions, and someone should be doing something real about it.
"I want to make it more accessible without downgrading the product, because you don't need to put a beat to this music to make it work. Just the fact that people can listen to it on a computer means that hopefully they won't feel a need to have an education or be from a particular background or a certain sector of society."
Little's reference to "putting a beat" to classical music refers to the fact that the The Naked Violin features three pieces for unaccompanied violin - Bach's Partita No. 3 in E Major, Luslawice Variations by Paul Patterson and Sonata No. 3 ("Ballade") by Eugene Ysaye - delivered pure and unadulterated and without the merest hint of pop-classical crossover.
She concluded: "These three extremely different pieces of music for violin will show the variety a single violin is able to produce, totally unadorned." ®