CES If you hate your personal space being invaded by the excessive noise of someone's MP3 player, then look away now. Creative has updated its Zen Stone MP3 players by building in a speaker.
The manufacturer now calls its Zen Stone and Zen Stone Plus models "micro boom boxes". Creative's CEO, Sim Wong Hoo, claimed the inclusion of a speaker will help to "free people from having to wear headphones", but mentioned nothing about kids that annoyingly play their music loudly on public transport.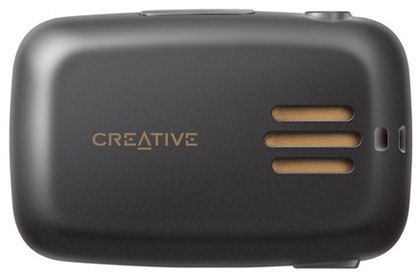 Creative's Zen Stone: ditch your headphones
The Zen Stone is available in 1GB and 2GB capacities, while the Plus offers a choice of 2GB or 4GB of storage and has the added bonus of a circular display. Each model supports MP3 and WMA tracks, although the Plus model also handles unprotected AAC files. Creative claimed both provide around 20 hours of playback from their inbuilt rechargeable batteries.
Creative originally launched its Zen Stone range in May last year, with the more advanced Zen Stone Plus launching just a few months later.
A 2GB Creative Zen Stone with a speaker will retail for around $50 (£25/€37), while the same capacity Zen Stone Plus with a speaker will cost about $60 (£35/€47). A European release date hasn't been confirmed yet.