This article is more than 1 year old
US Marines: Osprey tiltrotor doing OK in Iraq
V-22 plane-chopper combo finally working?
The troubled, revolutionary V-22 "Osprey" tiltrotor aircraft - which takes off and lands like a helicopter, but flies from place to place like a fixed-wing plane - appears to have finally left most of its development snags behind it.
The first operational Osprey squadron has been operating in Iraq for three months, initially under a news blackout. But there have been no mishaps so far, and chuffed military bigwigs have begun to allow reports out.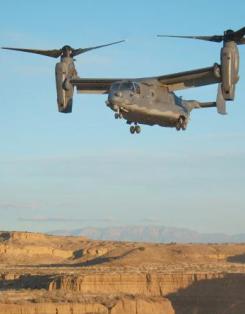 Up, up...
The V-22's tiltrotor tech appears a simple idea in outline. The ordinary winged fuselage has its engine nacelles mounted on swivels at the wingtips. The engines drive large propellors which point upwards like a helicopter's rotors in order to lift the V-22 off the ground. In flight, the nacelles tip forward to act as propellors and lift is generated by the wings as in a normal plane. This more efficient flight mode means that the V-22 flies high, fast and far compared to a normal chopper.
Simple as the idea may be, implementing it has been a 25-year nightmare during which four tiltrotors have crashed with the loss of 30 lives. (One of these accidents involved a V-22 full of troops during proving.) Early notions that the idea would soon spread into civil aviation - perhaps carrying commuters into city-centre rooftop pads - were stillborn. Only the corporate enthusiasm and political clout of the US Marine Corps kept the programme alive through its long troubles.
Last year the first operational Marine tiltrotor squadron - designated VMM-263 - was finally judged ready for war, and shipped out to Iraq's Anbar province. The programme's many critics predicted more problems, but in fact things seem to have gone fairly well.
The Dallas Morning News reported yesterday from Al-Asad in Iraq that VMM-263 Ospreys have logged 1,639 hours of flight time in Iraq, carrying 6,826 passengers and delivering 631,837 pounds of cargo "without a mishap or even a close call".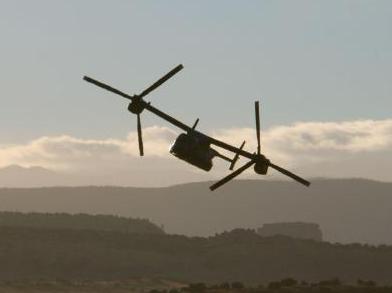 ... and away
The Marines aren't releasing any detailed reliability figures for now. VMM-263's commander, Lt-Col Paul Rock, said his unit had only been compelled to turn down tasks for lack of serviceable aircraft on "one or two" occasions over three months in theatre. His maintenance boss, Chief Warrant Officer Carlos Rios, said day-to-day availability for the Ospreys had varied from 50 to 100 percent.
That could be seen as unimpressive, especially as VMM-263 has a lot of extra technical support above that which a normal squadron could expect. However, ordinary helicopters and military transport planes often exhibit poor availability rates - especially in the desert. The US Army thinks it an OK day when 75 per cent of its Apache attack choppers are "mission capable", and C-5 transport planes have run at similar levels in the past.
The Dallas Morning News also quoted Philip Coyle, who was a Pentagon weapons tester during the Clinton era and can be relied upon to pour cold water on expensive military tech. (He doesn't think much of the US missile-defence effort either, and has always criticised the Osprey.)
"As long as they keep using it like a truck, I think they'll probably be okay," admitted Coyle.
Osprey critics sometimes say that the machine may now be acceptably reliable - at least in a military context - but that it is still unfit for combat landings under enemy fire. Many have pointed to the aircraft's lack of any forward-firing machine guns, often seen as a good idea for suppressing hostile fire during arrival at a "hot LZ"*. Others say that the Osprey can't descend to landing quickly enough without risking a crash, though this is disputed by Marine test pilots.
Operations in Anbar province would formerly have offered many chances to try the Osprey in such situations. However, US forces have for once managed to win over the local Sunni gunmen who previously gave them so much trouble.
The Marines plan to buy 360 Ospreys, saying this will let them operate far inland from ships at sea. The US special-ops fraternity intends to purchase 50 customised CV-22 versions which will allow long-range commando intrusions. ®
*A Landing Zone is "hot" when under enemy fire.