This article is more than 1 year old
Taser touts MP3 player that's a real shock to the system
Make my day, punk
CES If you feel the lusting eyes of robbers every time you publicly adjust your iPod Touch, then American company Taser International looks set to stun you with its latest offering.
The firm is displaying a leopard skin-effect covered taser, dubbed the C2, at this year's CES show in Las Vegas, which features an optional 1GB Music Player Holster (MPH).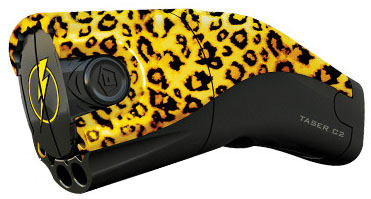 One for the ladies. Or, on second thoughts, maybe not
While the C2 is your standard electrical shocker, the MPH pouch incorporates its own MP3 player, meaning you will always be able to get a seat on the tube or quickly reach the front of the queue in any coffee shop while listening to your music.
Although a mere gigabyte of storage is somewhat disheartening for any diehard portable music player fan, the good news is that it should serve you well as a temporary replacement to, say, an iPod Touch if you're intending on drunkenly walking home from the pub.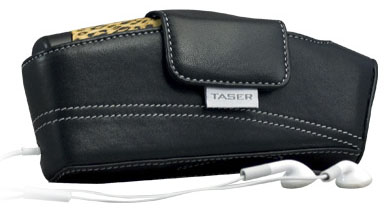 The C2 Taser's musical pouch
The company's CEO Rick Smith claims that both the, ahem, funkier Taser design and the MPH are the result of it listening to its customers, because "personal protection can be both fashionable and functionable".
The C2 Taser and MPH will be available from Taser International's website in March, priced at $380 (£190/€260) and $72 (£36/€58) respectively. European prices haven't been released yet.