This article is more than 1 year old
Government piles filesharing pressure on UK ISPs
Minister threatens legislation deadline
The government turned up the heat on internet providers today, warning that laws to force disconnection of illegal filesharers are already being drafted for a parliamentary debut in November.
Lord Triesman, the minister for intellectual property, said that if ISPs can't agree a voluntary scheme with the music and film industries by the end of summer, he will press Gordon Brown to introduce legislation in the next Queen's speech.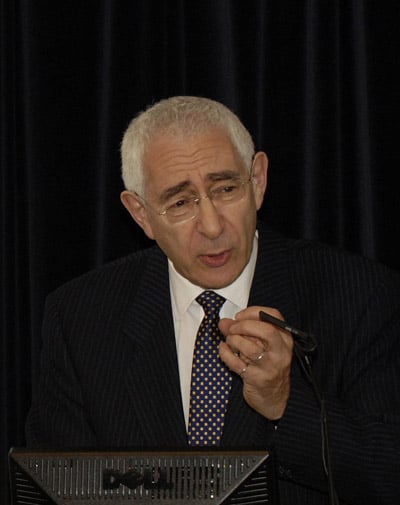 Triesman: Grasping the invisible nettle.
It's the first time Triesman has put a public timescale on the threat he made last autumn to bypass self-regulation.
The minister was speaking at the launch of the government consultation on new copyright exceptions following 2006's wide-ranging Gowers Review of intellectual property in the UK.
Triesman emphasised that the government speaks with one voice on illegal filesharing. "We're not prepared to see the kinds of damage that will be done to the creative economy," he said.
We asked one well-placed record industry insider whether he thought there would be a bargain by the end of summer. "What do you think?" was his rhetorical response.
A spokesman for ISPA, the internet providers' trade association, told us today that it has had "good meetings" with film rights owners and remains committed to working with "responsible rights holders" on copyright infringement. It refused to put any time frame on when any resolution might be reached, however.
If a joint settlement to monitor and cut off persistent copyright infringers isn't signed voluntarily, legislation imposing rules would likely be rubber-stamped by MPs.
The Conservative leader David Cameron has revealed strong sympathies with rights holder grievances over ISP attitudes to filesharing. In a speech to the BPI in July (pdf), he compared the issues to the clampdown on online paedophilia, and his party could be expected to vote with the government.
In an interview with The Register following his speech, Lord Triesman renewed his warning. He said: "There is no objective reason why they [rights holders and ISPs] cannot arrive at an agreement. Whether they have the will to do so is another matter."
"If we're not really getting anywhere I will be advocating using the first available opportunity [to legislate]. We are beginning to think about the character of what needs to be done."
He also revealed that the UK government is working with the French on their anti-infringement legislation - measures which Nikolas Sarkozy promised in his presidential manifesto.
The proposed laws create an enforcement body that French ISPs will turn over filesharing data to. The "three strikes" system will see infringers disconnnected if they don't sign and stick to a promise not to share copyright material.
Triesman said: "The French are plainly very serious about this, it's really interesting. We will actually do quite a lot of work alongside them - not neccessarily to reach exactly the same objective, but I think we've got a desire to share evidence and analyses. There's no point repeating each other's research."
He added that the French were enthused to draft their laws after meetings with British officials.
Whether Lord Triesman will be a member of the government at crunch time for illegal filesharers on this side of the Channel is a matter of speculation. The former communist activist was recently rumoured to be preparing to jump ship, to become the first independent chairman of the Football Association. ®