CES LG has craftily shown off an ultra-mobile PC based on Intel's as-yet-unlaunched '45nm Silverthorne' processor at this year's Consumer Electronics Show (CES).
The UMPC is based around a 4.8in, WVGA touch-sensitive display, but as you can see it also has a slide-down Qwerty keyboard. The rectangular space at the top-right of the keyboard is a touch panel.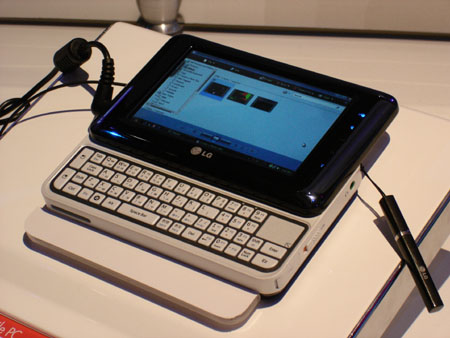 LG's 'Menlow'-based UMPC
In addition to the Silverthorne CPU and 'Paulsbo' chipset – mislabled by LG as, respectively, 'Menlow' and Silverthorne; Menlow is the codename for Intel's UMPC platform as a whole – the machine incorporates 1GB of DDR 2 memory and a 40GB hard drive. The HDD has a 1.5in form-factor.
The UMPC as a whole measures 148.4 x 92 x 29.2mm and weighs 590g. Inside, it crams all the above-mentioned gubbins, plus Wi-Fi, Bluetooth and HSDPA 3G radios, not to mention what LG called "various added features". Your guess is as good as ours. It runs Windows Vista Home Premium.
LG didn't say how much the UMPC will cost, but it did note that the gadget's aimed at the European, Asian and Canadian markets. We can't believe LG expects Statesiders to hop over the border to buy the machine, so we expect it to go on sale in the US too.