It is said that certain events put your town on the map, but one Irish town is taking things even further. It's set to be immortalised in 3D on the Google Earth mapping application.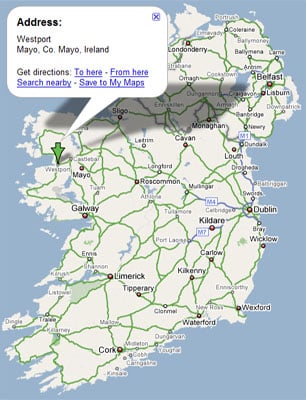 Westport's location, as shown by Google Maps
The town council of Westport in West Ireland worked with digital computer modelling company AMT3D to produce a 3D version of the town. This involved using a process called long distance laser scanning, essentially a trolley-mounted laser that was able to scan about 300m of the town each day.
AMT3D told El Reg that the process sends out an 800m laser beam over 360° to capture about 20,000 X,Y and Z co-ordinates each second. These are then digitised and used to help create the 3D image, which the company claims are photo-realistic.
A spokesman for Westport Council said that the idea, dubbed Westport3D, was originally conceived to aid town planning, but that its use by Google Earth will be an "opportunity for the virtual visitor" to "walk up and down our streets".
Google Earth users can take a virtual tour of the town from 16 January. ®