Microsoft set to milk mobile Messenger mavens?
'We don't want your money now. But we might sometime soon'
---
Mobile Windows Live Messenger users are reporting that Microsoft wants to take their money. But Redmond says it hasn't decided whether to take their money or not.
Microsoft-loving mobile types at MoDaCo - an online forum dedicated to smartphone and PocketPC news - claim that their mobile Messenger clients have been invaded by "30-day trial" messages indicating that Steve Ballmer and company will soon start charging for the IM service.
"Mark this as from the 'oh my goodness I really hope they are joking' department, but reports are coming in thick and fast of users being prompted with a '30 day trial' message upon signing into Windows Live Messenger," said one user. "The message...informs the user that they are starting a 30 day trial period, after which they will be able to buy an additional 30 days access."
According to another user, the message reads thus: "Hello! Starting today, your 30 day trial period beings. By selecting OK, you acknowledge that your use of Windows Live services continues to be subject to the Terms of Use and Privacy Statement. Data charges from your mobile operator, including roaming fees may apply for using the Windows Live Services. At the conclusion of this trial, you will be given the option to purchase a 30 days pass."
The well warned users have supplied a screenshot as well: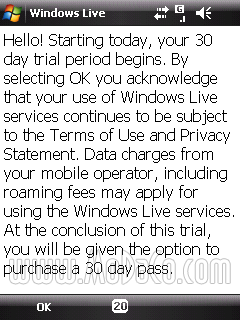 Mobile Messenger 30-day trial message (courtesy of MoDaCo)
According to the MoDaCo message boards, this message turns up regardless of the device or the mobile network being used. It even pops up on Symbian devices, users say. However, it appears that the message does not show up on third-party clients that tie into Microsoft's IM network.
Microsoft confirms that these 30-day trial messages were pushed out, but it claims that this wasn't supposed to happen on Windows Mobile devices. The messages were only intended for the Symbian-based Nokia S60 smartphone.
"This week we rolled out a direct-to-consumer billing service for the Windows Live client on Nokia S60 in the UK and Sweden," reads a statement from Matt Champagne, director of Windows Live mobile services. "Although we are considering doing the same at a future time for Windows Mobile, this has not been implemented – however, something happened and many of you saw a trial message on Windows Mobile devices. Windows Mobile customers shouldn't have received any notifications of a 30-day trial and we are working as quickly as possible to correct this."
"As you may know, we offer Messenger services through mobile operators on lots of handsets, not just Windows Mobile. Traditionally, customers have been billed by their mobile operators for many of these services, either directly or through their data package." ®