CES Everex, the US-based PC selling division of Taiwan's First International Computer (FIC), this week took the fight to Asus' popular Eee PC sub-notebook. It also launched a desktop-oriented mini PC.
Dubbed the CloudBook CE1200V, the compact laptop will be instantly familiar to anyone who's seen Packard Bell's EasyNote XS20 or Belinea's s.book. All three are based on a referenced design developed by chip maker VIA to promote its low-power C7-M processor.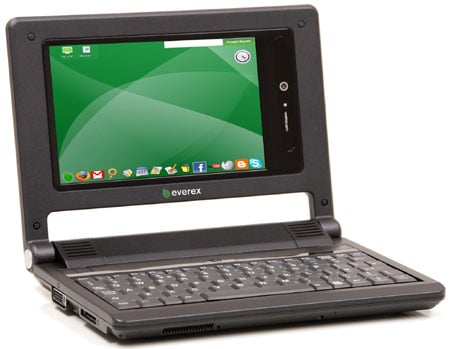 Everex's CloudBook: aka Packard Bell EasyNote XS20, aka Belinea s.book
Everex's release has a 1.2GHz C7-M, 512MB of 533MHz DDR 2 memory and a 30GB hard drive. The CloudBook has the same 7in, 800 x 480 display as the other VIA machines and, indeed, the Eee PC.
Like the Eee, the CloudBook runs a Linux-based operating system, this one called gOS, in its version 2.0 'Rocket' release.
gOS also forms the basis for the Everex's gPC mini, but this tiny 172 x 226 x 42mm desktop is based on Intel chippery: a 1.86GHz Pentium Dual-Core T2130 and the 945GM chipset. It has 512MB of 667MHz DDR 2 and a 120GB hard drive on board. Unlike the CloudBook, the gPC mini has an optical drive, a DVD writer.

Everex's gPC mini
The CloudBook is due to go on sale in the US on 25 January for $399 – the same price most retailers are asking for the Eee PC with just 4GB of storage. With the CloudBook's faster processor and bigger storage capacity, that's going to put pressure on Asus to up its specification. The CloudBook will be sold by Walmart.com.
This week, Asus said it plans to increase the Eee's screen size - hopefully, it'll increase the processor, memory and storage capacity too.
There's no word yet on gPC mini availability.