Nexsan gives 42TB array a make-over for picky Apple fans
SATABeast cleans up, brushes its metal
Storage system developer Nexsan Technologies is releasing a new version of its SATABeast disk array designed for Apple XServe and Mac Pro systems.
The SATABeast Xi holds up to 42TB of storage in a 4U form-factor. The hardware is similar to Nexsan's current SATABeast array, but with tweaks to the box design, web management GUI and software wizards. The changes address Apple product aesthetics as well as networking peculiarities.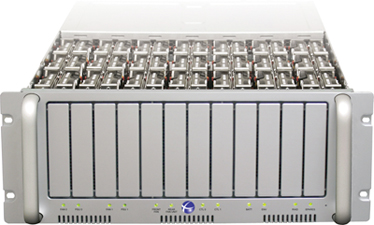 Note the lack of butt-ugliness seen in the regular SATABeast
The array has 4gb/s Fibre Channel interface ports and support for iSCSI. It also sports AutoMAID for slowing the spin of idle hard drives and a dual-redundant controller for data protection.
Nexsan envisions most XServe or Mac Pro customers that need this kind of massive storage coming from the film, video and music industry — a group that tends to fancy Mac-based applications.
So they've also cranked the bevel knob to 11 in order to make the web-based management GUI look more like something Steve Jobs would have coughed up.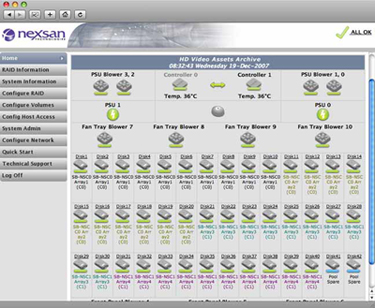 And gradients. Don't forget gradients!
Bear in mind there's no formal endorsement for the Xi from Apple. Those only willing to partake in devices sanctified by The Big Fruit must be satisfied with the 10.5TB offered by Apple's Xserve RAID array.
But if you need the extra space, you could always cram this puppy into the brand new XServe and Mac Pro models Apple unveiled just yesterday. It can also used as storage in other operating systems as well.
The price of the array will be about $1,200 per TB, about the same as the regular SATABeast price tag. The unit is being galavanted at the MacWorld Conference in San Francisco next week, with shipments expected to begin March 15. ®