GPS finds its way onto the PSP
Find your way, another way
Any gamers that thought Sony's PlayStation Portable (PSP) had lost its way of late may soon be proven wrong. The company has announced a GPS navigation system for the portable gaming device.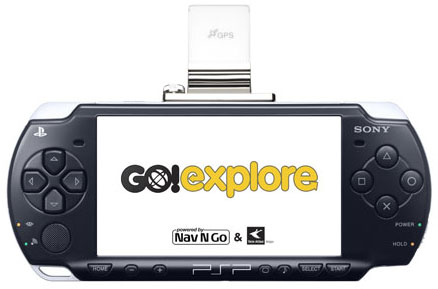 Go! Explore: a PSP GPS navigation system
Dubbed Go! Explore, it consists of a GPS receiver and a UMD disc containing the gamer's chosen maps. The software works in conjunction with the receiver to display their current location on the PSP, in much the same way as a TomTom.
Landmarks and points of interest are shown in 3D and gamers will be able to download additional maps from the PlayStation Network. However, working with third-party mapping companies, Sony's already developed maps for a selection of countries, including the UK/Ireland, France, Germany and Switzerland.
Sony has also created an in-car power adaptor and mount, should you want to replace your TomTom or Garmin.
Go! Explore will ship to Europe later this year for around €120 (£75/$150). A UK release date or price hasn't been located yet.