The average person regards the Cisco brand much as they do intestinal bacteria: blissfully unaware of its presence.
Certainly Cisco is an omnipresent force in electronic equipment. Yet a person can live a perfectly rich and fulfilling life as an electronics consumer and never so much as glimpse a product with the Cisco logo. After all, the brand is only stamped on imposing equipment designed for pekid-looking wiring closet gnomes who need "certification" to get within 100 yards of the stuff. Right?
Cisco isn't satisfied with this arrangement. At the Consumer Electronics Show in Las Vegas this week, the company is highlighting a new strategy of conquering the consumer market by entering our living rooms. And winning a little respect for the logo while it's in there. But can it succeed in a space where other tech conglomerates have failed?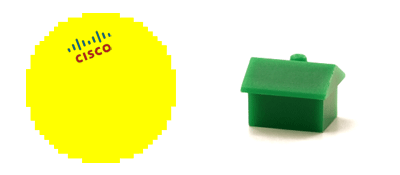 Wakka-wakka-wakka-wakka...
The CES assault begins with new set of Cisco-branded set-top boxes formerly sold under the Scientific-Atlanta brand. Cisco scooped up S-A for $6.9bn in 2005 but had kept the acquisition's namesake on the systems for market recognition. The new boxes will integrate Cisco's networking know-how to let users pause a movie in one room and watch it in another. Or view web videos on television.
Cisco is also pushing Linksys routers and home media extenders that feature the Cisco brand prominently on the box. Linksys, acquired in 2003 for $500m in stock, meanwhile is being relegated to a product family for the company, Cisco chief John Chambers revealed last July.
Cisco is also being vague (but nonetheless showy) about a home-grown media and content delivery software it calls its entertainment operating system, or EOS. The software will be sold to media companies as a combo content distributor, social networking platform and content search tool. The platform will be hosted software-as-a-service - and "likely" paid through advertising agreements, according to Cisco. We assume the social network aspect will come from its acquisition of Tribe.net last March.
Set-top dancing
Moving media around the home is the over-arching theme here. Although Cisco's a veteran at the networking biz - the consumer market is unfamiliar ground.
Mike Kisch, Cisco's consumer marketing director, said the new presence is a natural move. The company already has plenty of experience in delivering data, and through its acquisitions has imbibed a new set of customer relations and expertise.
And according to Kisch, the market is changing.
"We used to see this kind of technology start in the business sector and get pushed into consumer hands," he said. "Now we're seeing the opposite too. Now its a continuous experience where people use devices for work and for play."
Fine, but why the rebranding? Who cares what company makes their set-top box?
"We don't think the set-top itself will make customers aware of our brand. But they will see Cisco on the set-top and other devices that facilitate the movement of data. All of it together will reinforce that we have a presence in their life."
But social networking, steaming media...a lot of this stuff sounds familiar. Cisco is moving into an extremely crowded market. The living room is a dangerous place. Dell, for instance, hasn't been too successful in selling television sets despite being a huge name in technology.
"This is not something we are going to walk away from," said Kisch. "This is not a peripheral initiative for us. The key message now is we are already deeply entrenched in this space and beginning to raise our profile." ®
Sponsored: Webcast: Simplify data protection on AWS