Review Believe it or not, 'yepp peetoo' is Samsung's preferred pronunciation of the name of their new media player. Thankfully a coterie of Yepp Girls were on hand at the launch of the peetoo a month or so back and they had such lovely thighs, sorry, smiles, that we instantly forgave Samsung its assault on the English language.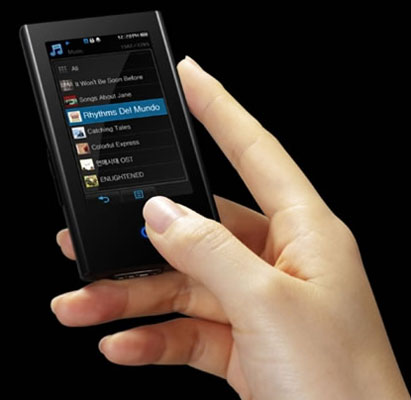 Samsung's YP-P2: it's all about the 'stroke'
Essentially, the P2 is the big brother to Samsung's T10, recently reviewed here, but is aimed at those whose mobile media consumption is more video-centric.
Measuring 100 x 52 x 9.9mm and weighing 85g, the P2 occupies something of a no-man's land between smaller and lighter Flash-bases players with a similar memory capacity - the T10, the iPod Nano and the like - and larger, heavier hard drive-based players with much larger memory capacities, such as the iPod Classic and Creative Zen Vision W. From a purely media playback frame of reference, the iPod Touch is one possible benchmark though as only the lowliest of the Touch range shares a common memory size with the highest in the P2 hierarchy and has a higher basic spec that's a comparison bound to flatter the Granny Smith until price is factored in.
Basic functionality is pretty much as per the T10, so you get a non-RDS FM radio, A2DP Bluetooth stereo, a voice recorder, world clock, an alarm - though without an external speaker we are n't sure how much use that will prove - and support for WMV, JPEG, MP3, WMA, Ogg and text files. Strangely enough, it lacks the T10's ability to vary audio playback speed, so anyone planning on using their P2 to help study a new language should take note.
Dominating the front of the P2 is a 3in, 272 x 480 LCD screen that acts as both playback screen and the main control device. Yes, with the P2 we are most definitely not in Kansas but firmly in the realm of iPhone-esque touchscreenery. For the eagle eyed among you, who've spotted the LED below the screen, it's just to tell you when the player's battery is fully charged.